Past
Rod McRae
Are you my mother?, 2010
mixed media
dimensions variable
Katherine Hattam
Specific Object – White, 2009
painted and reconstituted kitchen chairs
69.5 x 25.5 x 25 cm
Deakin University Art Collection
Photography: Simon Peter Fox
domestic bliss
5 June to 19 July 2014
Featuring the work of Katherine Hattam, Elizabeth Gower, David Ray, Yvonne Kendall, Hannah Bertram, Donna Marcus, Honor Freeman, Lucas Grogan and others, this exhibition explores the way artists have responded to the notion of the domestic space and traditional domestic roles. Through an often playful materiality, these artists have reinterpreted the all-familiar, private spaces we inhabit and the objects that we share them with and ask, what do we garner from noticing, subverting or even celebrating the everyday? Includes works drawn from the Deakin University Art Collection, private collections and newly commissioned works.
Curator: Emma Cox, Deakin University
Catalogue available. Please contact artgallery@deakin.edu.au to purchase.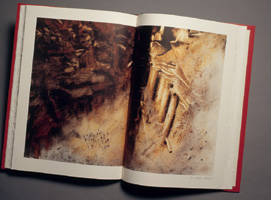 Peter Lyssiotis
Gardener at Midnight: Travels in the Holy Land, 2004 (detail)
two original texts (by Peter Lyssiotis and Brian Castro), bound by Nick Doslov
Masterthief
52 x 36 cm closed
Deakin University Art Collection
Photography: Robert Colvin
Reconnoitre: Real and imaginary
16 April to 24 May 2014
This survey of artists' books is based on the idea of real and imagined journeys. The exhibition includes works from the Deakin University Art Collection as well as student work produced during the Faculty of Arts and Education's Art History Study Tour to Paris and Provence in 2012. The works included are intimate and diaristic, and allude to travel and designated sites, actual or invented; and in some instances, reference locations and modes of practice relating to significant artists in the pantheon of art history. Curator: Honorary Associate Professor Rob Haysom, Deakin University.
Catalogue available. Please contact artgallery@deakin.edu.au to purchase.
Wunderkammer: The cabinet of wonders
12 February to 5 April 2014
In Wunderkammer: The cabinet of wonders, Rod McRae explores ideas of conservation, hunting culture, biodiversity, ownership, colonization and climate change. McRae's installations of taxidermied animals in unnatural tableaux confront the viewer and ask us to consider our diminishing relationship with the natural world.
Disclaimer: All the animals in Wunderkammer have been ethically sourced from South Africa, South America and the USA. No animal has been harmed to make this work in the first instance; the skins are the result of death by natural causes, medical euthanasia, hunting, culling and food production and have been traded on, sometimes multiple times before they became part of this body of work.
Trajectories
23 July to 30 August
Trajectories showcases the creative practice of six artists who differ markedly in media and process, but share commonalities: all have graduated from the PhD program of Deakin University and all are regionally-based, female artists with connections to South West Victoria. Regional artists can experience disadvantage compared to metropolitan practitioners in terms of networking and professional opportunities, but Trajectories confirms that this field may be negotiated, and demonstrates that creative practice can thrive in regional locales. Trajectories will comprise a range of artwork in various media including painting, printmaking, drawing and photography with work by Victoria Dunn, Annette Iggulden, Marion Manifold, Liza McCosh, Noela Stratford and Carmel Wallace
Curator: Dr Liza McCosh, Deakin University.
Catalogue available. Please contact artgallery@deakin.edu.au to purchase.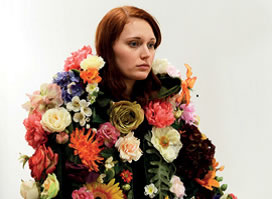 Carmel Wallace
Flowers for Gardens Cloak modeled by Arna-Marie Sagen, 2013
Photograph by Carmel Wallace
Lloyd Godman: A PHOTO:synthetic pathway
10 September to 18 October
Lloyd Godman: A PHOTO:synthetic pathway traces the evolution of the artist's practice from traditional photographic techniques through to his innovative suspended rotating living air plant sculptures. Through parallel practices as artist and organic gardener, and making a connection between photosynthesis and the role of light in photographic practice, Lloyd Godman presents living plants as 'super-sustainable' sculpture. There is a strong environmental thread that binds his diverse oeuvre then opens a portal to conceive the planet as a "giant living abstract living photograph" with a consequential shift from environmental art as comment to environmental activism. Curator: Leanne Willis, Deakin University.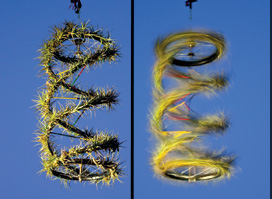 Lloyd Godman
Nature reclaims the Helix, 2012 (detail)
recycled bicycle wheels steel, Tillandsia plants – super sustainable rotating Tillandsia air garden, ecologically active art
80 x 50 x 50 cm
Deakin University Contemporary Small Sculpture Award 2014
29 October to 13 December
In its sixth year, this annual acquisitive award and exhibition is organised by the Art Collection and Galleries Unit at Deakin University. One outstanding entry will be awarded $10,000 and will become part of the Deakin University Art Collection. Applications for the award close on 15 August 2014. The winner will be announced at the opening of a six week exhibition of finalists' works.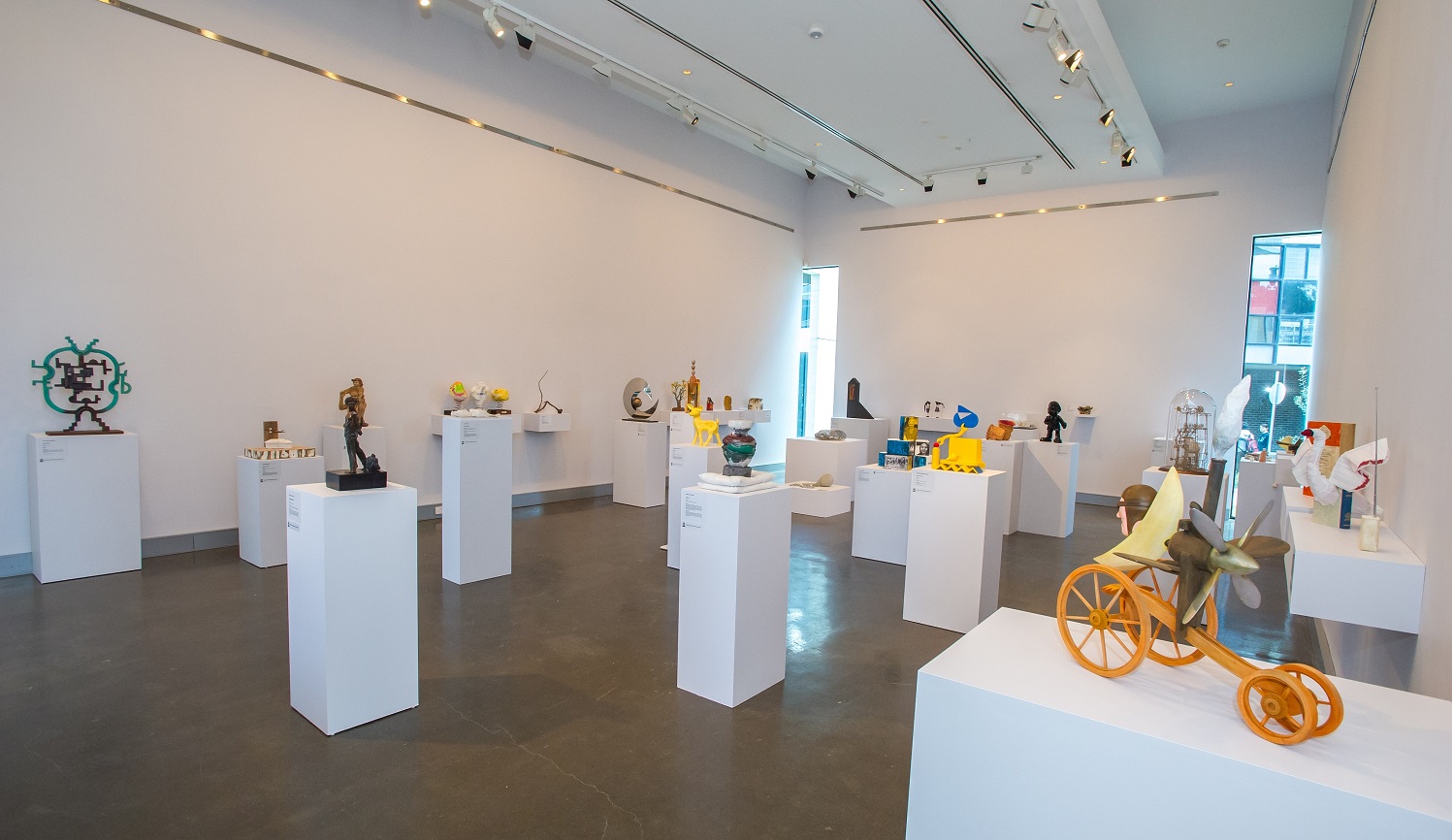 Exhibition of finalists
2014 Deakin University Contemporary Small Sculpture Award
Deakin University Art Gallery
Photography: Simon Peter Fox
George Gittoes: I Witness
18 February - 5 April 2015
George Gittoes: I Witness is the first major survey in Australia of the work of leading Australian artist and filmmaker George Gittoes. Gittoes is a nationally significant and internationally recognised Australian artist best known for creating works in regions of conflict and upheaval around the world including Rwanda, Bosnia, Afghanistan and Iraq. Known for working in areas of international conflict, here Gittoes sharpens his eye around the moral, ethical and spiritual dimensions of being human.
Curated for Hazelhurst Regional Gallery and Arts Centre by Rod Pattenden, George Gittoes: I Witness presents the major themes explored throughout Gittoes' 40 year career with a diverse body of work that includes paintings, drawings, printmaking, artist diaries from the fields of war, installation and film. It is drawn from the artist's and other private collections with many works never having been seen publically in Australia.A Hazelhurst Regional Gallery and Arts Centre touring exhibition.

A Hazelhurst Regional Gallery and Arts Centre touring exhibition
George Gittoes at Occupy Wall Street, 2011.
Photo: Zony Maya.
28 April - 29 May
FOUND IN TRANSLATION: DEAKIN UNIVERSITY ART GALLERY is part of Gosia Wlodarczak's ongoing Instruction Drawing project. Taking a drawing produced during a residency at the Western Washington University Art Gallery in 2012 as her starting point, Wlodarczak has developed two pictorial alphabets, each letter of the English alphabet represented by a small detail of this drawing.
Using these pictorial alphabets, Wlodarczak has created a series of three site-specific wall drawings, each containing encoded texts. The first has been completed by the artist; the second, by Deakin University Art Gallery staff using a manual provided by the artist, INSTRUCTION FOR THE MAKER; and the third will be a collaboration with visitors to the exhibition. Texts selected by the artist and University staff, which relate to project and to the specific context of the University setting, are encoded within two of the drawings, which may be decoded using a set of instructions provided by the artist: INSTRUCTION FOR THE VIEWER. Visitors to the exhibition are invited to contribute a word to the project, which the artist will translate into a third wall drawing during a four day residency from 28 April to 1 May, culminating in a collaborative concrete poem.
Gosia Wlodarczak extends the practice of drawing in performative, interactive and conceptual projects that respond to her direct environment and explore the idea of drawing and language being coded modes of communication.
Read more about the exhibition in this essay by Curator, Emma Busowsky Cox. (PDF, 699.1 KB)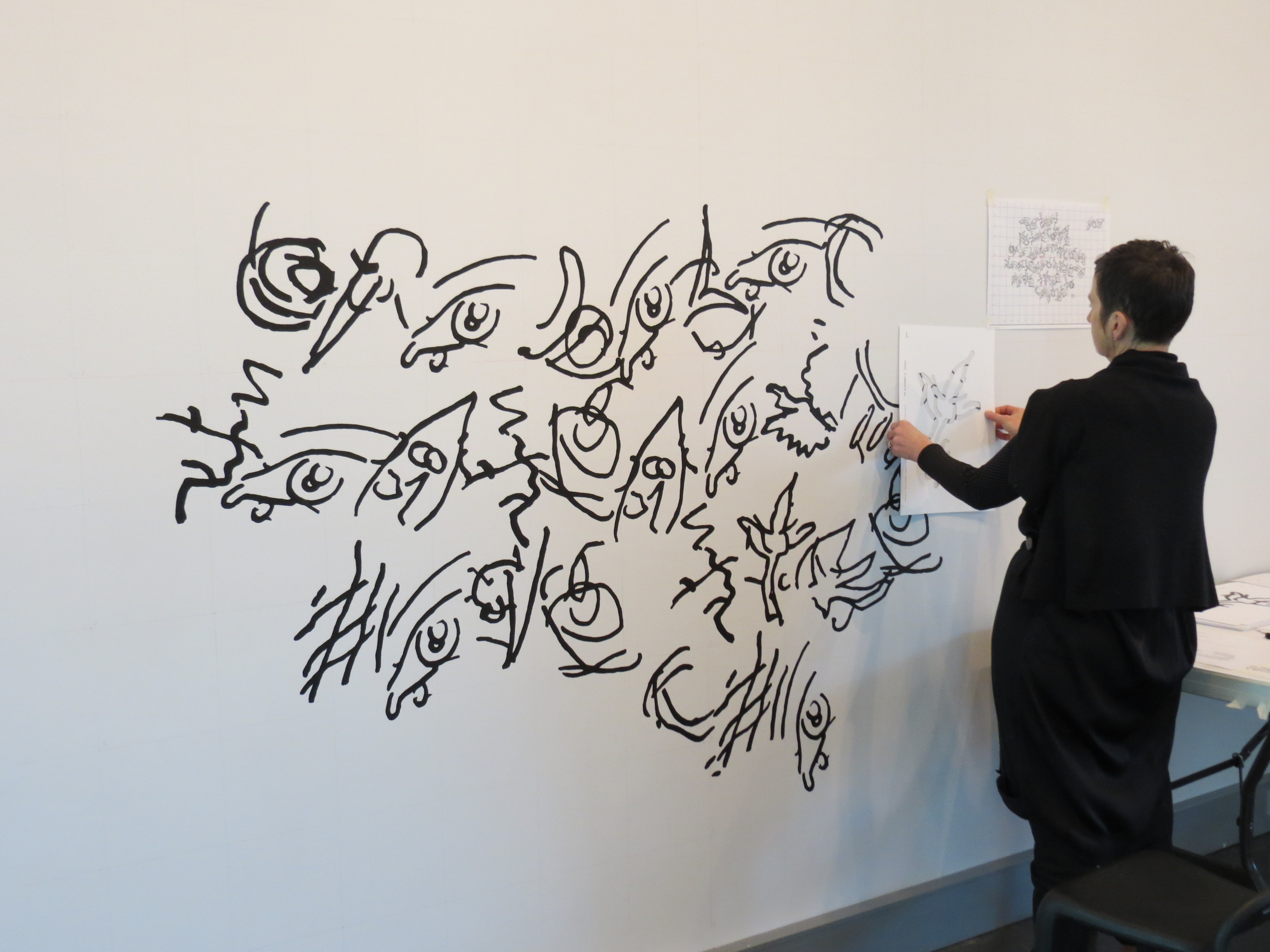 Gosia Wlodarczak installing FOUND IN TRANSLATION, Interpretation Drawing #2: SIGNS, 2015
Deakin University Art Gallery
Photo: Longin Sarneci
Page custodian: Vice-President (Advancement) Last updated: