Upcoming
28 October – 11 December
Where are the Originals? Once were photographs… Peter Lyssiotis
Where are the Originals? slows down the frantic pace of photography in the modern era, pausing for a breath in our rush to capture every moment by taking an over-the-shoulder look at photography and interrogating it. Amongst other things this exhibition posits the view that once an idea has been stretched, almost to breaking point, it will return inevitably to the original.
Lyssiotis' process of scratching, erasing, sanding and over drawing an existing image is a way of drawing those photographs, which have been made and already reproduced back to their essence… light. So that the immediacy of photography goes arm-in-arm with the meditative nature of drawing.
Based on two series of works, "Men of Flowers" and "… & Now?" these works look at the challenge of making visible that which the initial photographer has not foreseen, revealing, in the process, what was hidden in the original, with a view, always, to reach for those unexpected levels of poetry (and perhaps humour).
Curated by Leanne Willis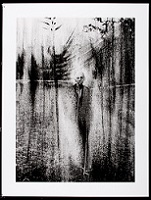 Image caption:
Peter Lyssiotis, … & now? I, 2009, giclee print, 108 x 80 cm, Deakin University Art Collection, 2013.18. Purchase 2013. Photographer Simon Peter Fox.
Page custodian: Vice-President (Advancement) Last updated: