Upcoming
Lloyd Godman: A PHOTO:synthetic pathway
10 September to 18 October
Lloyd Godman: A PHOTO:synthetic pathway traces the evolution of the artist's practice from traditional photographic techniques through to his innovative suspended rotating living air plant sculptures. Through parallel practices as artist and organic gardener, and making a connection between photosynthesis and the role of light in photographic practice, Lloyd Godman presents living plants as 'super-sustainable' sculpture. There is a strong environmental thread that binds his diverse oeuvre then opens a portal to conceive the planet as a "giant living abstract living photograph" with a consequential shift from environmental art as comment to environmental activism. Curator: Leanne Willis, Deakin University.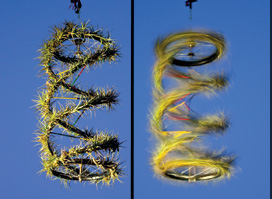 Lloyd Godman
Nature reclaims the Helix
, 2012 (detail)
recycled bicycle wheels steel, Tillandsia plants – super sustainable rotating Tillandsia air garden, ecologically active art
80 x 50 x 50 cm
Deakin University Contemporary Small Sculpture Award 2014
29 October to 13 December
In its sixth year, this annual acquisitive award and exhibition is organised by the Art Collection and Galleries Unit at Deakin University. One outstanding entry will be awarded $10,000 and will become part of the Deakin University Art Collection. Applications for the award close on 15 August 2014. The winner will be announced at the opening of a six week exhibition of finalists' works.
Exhibition of finalists
2013 Deakin University Contemporary Small Sculpture Award
Deakin University Art Gallery
Page custodian: Vice-President (Advancement) Last updated: