Internship Program
Museum Studies paid Curatorial Internship
The Deakin University Art Collection and Galleries Unit (AC&G) is delighted to once again join with the Cultural Heritage and Museums Studies course to offer a currently enrolled student the opportunity to work with us as a paid curatorial intern, one day a week, for 16 days, from August to November 2015.
The intern will have the opportunity to work alongside members of the AC&G team in activities such as assisting with collections management and curatorial tasks.
They will also work on a special project relating to researching the provenance of artworks in the University Art Collection.
Closing date 15 May 2015
Click here to download the application form (PDF, 36.4 KB)
Past Interns
Deakin University Art Collection and Galleries, in conjunction with Museum Studies, began the internship program in 2011. The successful student in the first year worked on coordinating an exhibition where twenty-two Deakin University visual arts academics developed an original piece based on an artwork from the Deakin University Art Collection. These were all then exhibited the following year in the Deakin University Art Gallery in an exhibition titled Face to Face.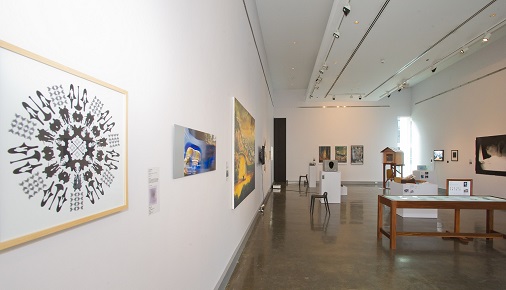 Face to Face, installation view, Deakin University Art Gallery, 2012
Page custodian: Vice-President (Advancement) Last updated: