Schools
Specialist school tours and exhibition talks are available on arrangement with the Art Collection & Galleries Unit.
The Deakin University Art Collection encompasses more than 1700 important artworks. The Collection includes works in a diverse range of media including paintings, prints, drawings, ceramics and photographs. Contemporary sculpture is a key feature of Deakin's Art Collection. A significant collection of site-specific sculptures can be found at the University's four campuses. These large-scale public artworks are beautify and contribute to the aesthetics of the campuses.
Sculpture walk for schools at the Melbourne Burwood Campus
The Sculpture Walk encompasses the key outdoor sculptures on campus at Deakin, Burwood. There are many ways that you can incorporate the Sculpture Walk into your excursion to Deakin. If you are planning a whole day excursion, begin in the morning with an hour tour, this will orientate students and give them an idea of the varied artworks at Deakin. Another option is to select two or three sculptures to investigate with students or spend an hour completing an activity with one sculpture.
We have Sculpture Walk teacher notes available as a resource for each sculpture to assist teachers in facilitating a Sculpture Walk tour, or you can ask for a tour from the Curator.
The Sculpture Walk teacher notes are divided into Primary and Secondary and are specific to each sculpture. It is suggested the notes are modified according to the group size and year level.
A suggested itinerary for a sculpture tour at Burwood (one hour):
Adrian Mauriks Compilation, Anthony Pryor Marathon Man, Augustine Dall'Ava Distilled Knowledge, Inge King Guardian Angel, Geoffrey Bartlett Silver Cloud, Bruce Armstrong Lotus Eater, Brigit Heller Poles Apart, Peter D Cole Landscape Figure, John Kelly Maquette for Public Monument, Dean Bowen Echidna, Kon Dimopoulos Red Field and Max Lyle Fountain.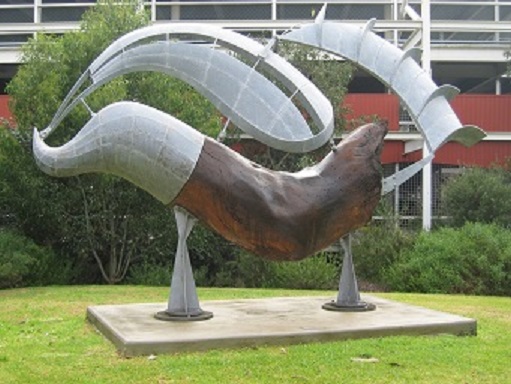 Geoffrey Barlett
Silver Cloud, 1995
river red gum and galvanized steel
310 x 450 x 120 cm
Deakin University Art Collection
Page custodian: Vice-President (Advancement) Last updated: