Welcome from Executive Director and Academic Registrar
Our division provides administrative services and support to all Deakin students, helping you navigate your way through the required online forms and processes that are necessary for your success at uni.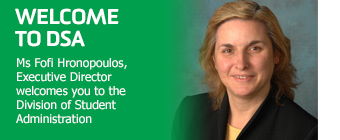 We work closely with faculties and other areas of the University to optimise our services and support for you. Our ambition is to offer a great service, and along the way ensure that when it comes to you, our students, we will always help out first and solve the problem.
Our Division can help in a number of ways, through channels that suit you best.
Our Customer Service team work in our on-campus hubs called Deakin Central and in a sophisticated Contact Centre ready to take your calls and respond to your emails. We are often the first port of call when you need answers and need them fast.
Our Admissions and Enrolments team coordinate all admission and selection processes, including working with VTAC and Faculties and managing Deakin's online enrolments.
Our Student Finance Team can help you with money matters like financial assistance, scholarships, loans, grants and of course fees (HECS-HELP and FEE-HELP and SA-HELP) – we take our responsibility very seriously to provide you with every assistance in managing the financial side of your study.
Our Assessments and Graduations team are there with you during some emotionally charged times – exams, results release and of course the best bit, graduation!
Our Division aims to put you at the very centre of all that we do. We are passionate about delivering exceptional customer service and we are committed to regular student and peer review and feedback to make sure we are on track.
Please call on us, we are here to help. Good luck with your journey! We trust that your Deakin experience will be a great one.
Fofi Hronopoulos
Executive Director and Academic Registrar
Division of Student Administration
Page custodian: Division of Student Administration Last updated: