Burwood Highway Frontage Building
Building BC creates a signature entrance to Deakin's Melbourne Burwood Campus. This contemporary and stylish building consists of an eight-level tower connected to a five-level podium building, running between the two University entrances along the Burwood Highway.
---
Project Manager: Amanda Harris 03 9251 7728
Status: Complete (Defects)
Architect: Woods Bagot
Lead contractor: Hansen Yuncken
Additional fit-out works: Loaram Constructions
---
Building BC is now occupied by the Faculty of Health plus a number of administrative support areas including the Vice-President (Advancement), Chief Financial Officer, Deakin Learning Futures, the Burwood Corporate Centre and Research Services. It supports office-based research spaces, retail, meeting, executive and administrative spaces, an information/visitor centre and art displays.
---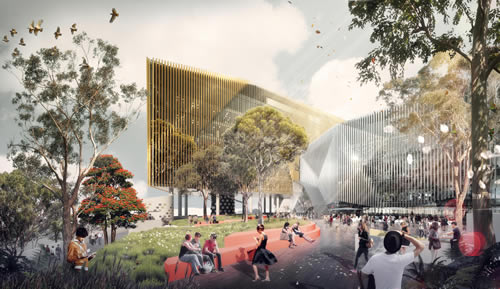 In this new building:
| | |
| --- | --- |
| Levels 1 & 2 | Hospitality and event spaces, including Mrs Robinson restaurant and the Burwood Corporate Centre. The Burwood Corporate Centre includes 10 boardrooms, a lounge and large conference rooms. With a full catering service available, the Burwood Corporate Centre is open to Deakin University's corporate partners. |
| Levels 3, 4 & 5 | Spaces for the Faculty of Health, including the School of Psychology, School of Health and Social Development, and the Centre for Population Health. |
| Level 6 | Office for the Deputy Vice-Chancellor (Education) and Chief Financial Officer's staff |
| Level 7 | Vice-President (Advancement) and staff of the Advancement Portfolio |
| Level 8 | Advancement (Donor Relations) staff and the Vice-Chancellor's Office |
Staff moved into the new building earlier in 2014. A refurbishment program, the Burwood Campus Development project, is now underway. This project will upgrade the vacated buildings to create new teaching and research facilities and to co-locate staff within business areas.
Page custodian: Facilities Services Division Last updated: