In the spotlight
Deakin's Global Citizenship Program (GCP) is now in its fourth year, with over 2,000 students registered, and 144 who have received the GCP award. The program was established to give our students access to a wide range of international experiences, and provide them with a way of articulating these experiences, and their value, to future employers. To complete the GCP, students must undertake at least 100 points of international activity, with each activity given a weighting based on duration and intensity. The activities range from semester-long exchange, short-term in-country programs, internships, language programs, and can even include international activities undertaken at home, such as involvement in our international student buddy programs, or a domestic internship with an international focus.
Professor Gary Smith, Deputy Vice-Chancellor (Global Engagement) attended the 2013 GCP award ceremony late last year where he met some fantastic Deakin Global Citizens. He invites you to look at the short video which captures the value of the program and the importance of international experience for Deakin's students.
http://www.youtube.com/watch?v=ykGc1W_RgEg
.
Study Tour to Sarawak
Watch the YouTube clip and read about Deakin's Conservation and Environmental Sustainability Study Tour to Sarawak, (Borneo) in an article appearing in the Global Student Newsletter
16 students and 3 staff members on the Study Tour gave a presentation to the University Malaysia Sarawak (UNIMAS) but the Tour started with a Race around Kuching, a novel orientation activity and great alternative to a bus or cultural tour. Other Study Tour activities included field trips to forests and a homestay with local people.
.
Universities Australia - International Committee appointment
Professor Gary Smith, Deputy Vice-Chancellor (Global Engagement), Deakin University has been appointed to the Executive of University Australia's Committee of Deputy Vice-Chancellors (International), joining seven colleagues from universities throughout Australia.
University Australia is a peak industry body representing Australia's 39 universities in the public interest, both nationally and internationally. Its International Committee has particular responsibilities in providing expert advice on matters relating to international education. The Committee will bring strong advocacy and knowledge to the early stages of policy development by the peak body.
Congratulations to all newly elected members of the Committee.
.
International education awards - winner
A team at Deakin University's Strategic Research Centre, PRaDA has won an award for Excellence in International Education - Research Engagement, a prestigious new award provided by the Victorian Government. Deakin researchers developed the TOBY Playpad, an interactive iPad application to dramatically improve the way parents can interact with a child with autism. They worked with Deakin's Indian partner, Tamana School of Hope, New Dehli to introduce this revolutionary learning tool in an Indian context. The award was presented to team member's Dr Thi Duong and A/Professor Dinh Phung by the Premier Dr Denis Napthine and the Honourable Peter Hall, Minister for Higher Education and Skills. The Vice-Chancellor, Professor Jane den Hollander welcomed the award saying it demonstrated Deakin's aim to make a difference to the communities it serves in Australia and internationally.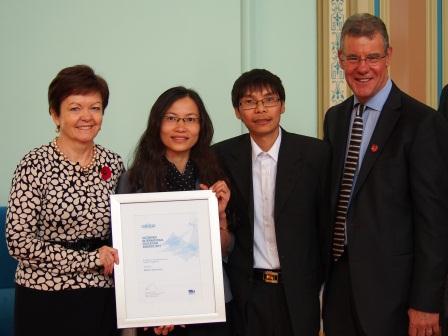 .
The Deakin University English Language Institute (DUELI) was highly commended for its work in English Language Training. Deakin was also a finalist in the award for Excellence in International Education - Student Employability and Careers.
Congratulations to everyone involved in these global engagement activities.
Global citizenship project
Deakin Global citizenship students helped build a new pre-school on South Taveuni, Fiji. Funds were raised by the students and the Rotary Club of Geelong, and both groups worked with a team of local builders. The students lived in home-stay accommodation with locals in the community. The students had a great experience on a project with long-lasting benefits for the community.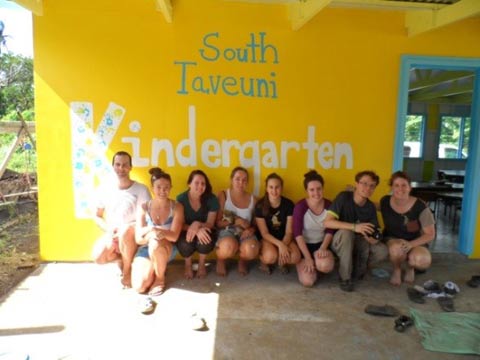 AsiaBound funding grants
In July the Study Abroad and Exchange team at Deakin International was awarded 11 AsiaBound grants for 2014 through the Department of Industry, Innovation, Climate Change, Science, Research and Tertiary Education (DIICSRT). This funding initiative supports study experiences to assist students become Asia literate. All of Deakin's Faculties are involved in the planned programs, which are across a diverse range of countries in Asia, and demonstrate the University's engagement with Asian partners.
The programs cover areas such as health, architecture, sociology, civil engineering, business and art.
Find out more about Deakin's global study opportunities.
Page custodian: Office of the DVC (Global Engagement) Last updated: