Officers of Academic Board
Chair of the Academic Board
Professor Ruth Rentschler OAM
Qualifications: BA Hons (Melb), PhD (Monash)
Professor Ruth Rentschler is Chair Academic Board and Chair and Professor in Arts and Entertainment Management, Deakin University, Melbourne, Australia. She has a combined BA honours degree in Fine Arts (First Class Honours, First Place) and German from the University of Melbourne and a doctorate from Monash University.
Throughout her career, she has held leadership positions with start-up, research and development foci. Current relevant leadership positions include board member at Art Gallery of Ballarat, Duldig Studio, Multicultural Arts Victoria and VicHealth. She is Chair of the VicHealth Human Research Ethics Committee. She is a Research Ambassador with the German Academic Exchange Service or the Deutscher Akademischer Austausch Dienst (DAAD), Sydney establishing the doctoral student mentorship and development program.
Professor Ruth Rentschler, Chair of the Academic Board
Other leadership positions include ones where she has contributed to strategic initiatives such as: Director External Research Program; Executive Director, Centre for Leisure Management Research; Foundation Director Arts and Entertainment Management program; Associate Head of School Research; and Interim Head, School of Management and Marketing.
Professor Rentschler came to academia in 1994 after a career in industry in human resource management, with a strong emphasis on staff development at a senior level. She established the HRM and development function for the opening of the Regent Melbourne Hotel, designing and implementing the recruitment, training and development, and employee relations strategies for the hotel.
Professor Rentschler is on the editorial board of various refereed international journals. She is the book review editor for the International Journal of Arts Management. She is convenor of the doctoral symposium for the XII International Conference on Arts & Cultural Management, Bogota, Columbia 2013.

Deputy Chair of the Academic Board
Professor Stuart Orr
Qualifications: PhD (Monash), M Eng/Sci (Monash), B Eng (Hons)
Professor Orr managed the Graduate School in Business and Law at Deakin and was previously Head of the Department of Management at Monash University.
He has chaired commercial and association boards. He is Chief Editor of the World Journal of Management, Vice President (Australasian) of the Asia Pacific Decision Sciences Institute and an Honorary Fellow of the Finance and Treasury Association of Australia and other associations. He also chairs annual international conferences in Malaysia and Dubai.
Prof Orr has been successful in competitive Commonwealth, industry and benevolent grant schemes and is currently leading international collaborative research projects in the UK, Thailand and Indonesia. Professor Orr's area of teaching and research is strategic management.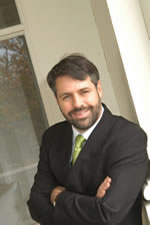 Professor Stuart Orr, Deputy Chair of the Academic Board
He is the lead author of Australia's most popular teaching strategic management text, in addition to 25 years of substantive research book, chapter and journal publications in the area.
Page custodian: Office of the Vice-Chancellor Last updated: