Mr Peter Niblett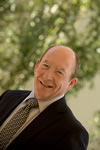 Mr Peter Niblett is an executive director in Risk Advisory Services with Ernst & Young in Melbourne. He is the Client Service Partner responsible for the Victorian Auditor-General's Office, the Emergency Services Cluster within the Victorian Government sector and Tasmanian Government.
Prior to joining Ernst & Young in Melbourne, Peter worked with Ernst & Young in London where he co-ordinated the technology activities for Ernst & Young in the UK government sector with responsibilities for delivering large scale projects on procurement and shared services across all government agencies in the UK.
Peter was born in Colac and educated in Geelong, attending Geelong High School, the Gordon Institute of Technology and Deakin University, where he obtained a Bachelor of Commerce in 1985.
Peter is Deputy Chair of the Audit and Risk Committee and member of the Finance and Business Affairs Committee.
Qualifications
BCom, CA, FCPA, CISA, CISM
Page custodian: Governance Services Last updated: