Anzac legend more culturally powerful than Easter and Christmas: Deakin historian
Media release
23 April 2018
Recent publicity surrounding Anzac Day has reinforced how Australians' protection of Anzac Day from blatant commercialisation has elevated its cultural significance above religious events like Christmas and Easter, according to a Deakin University war historian.
Dr Carolyn Holbrook is a researcher in Deakin's Contemporary Histories Research Group within the School of Humanities and Social Sciences, and author of the award winning book, Anzac: The Unauthorised Biography, about the history of how Australians have remembered the First World War.
She said the social media backlash against references to Anzac by activist Yassmin Abdel-Magied, as well as the 2015 furore over Woolworths 'Fresh in our Memories' campaign demonstrated Australians' fierce protection of the Anzac legend against blatant commercial or personal gain.
"It is interesting to see where Australians drew the line when it comes to commercial attempts to cash in on the Anzac legend," Dr Holbrook said.
"While Australians no longer blink an eye at the rampant commercialisation of Easter or Christmas, we have drawn the line at allowing Anzac to be surrendered to the profit gods.
"The commercialisation of Anzac is as old as the legend itself, with businesses looking to market Anzac beer, soap and hotels, and people even wanted to name their children Anzac as soon as news of the Dawn landing reached Australia.
"Today we see newspapers peddling Anzac collectibles, there is the AFL 'Anzac Day Clash' between Collingwood and Essendon, and merchandisers sell poppy earrings and Gallipoli oven gloves. Most of which passes by without any fuss.
"Yet as we have seen with Woolworths in 2015 and last week's cancellation of a war-themed video game tournament at a Sydney RSL scheduled for 8 May, there is something sacred about Anzac Day and a line that people need to be careful not to cross.
"For Woolworths, their mistake was to make the digger the centrepiece of its campaign and then fail to pay due deference to his status as a quasi-religious idol.
"Instead, the company slapped a cynical slogan and its own logo across the idol. To the Anzac faithful, this was an act of digital desecration."
Dr Holbrook said the way people commemorate Anzac shares many of the elements of conventional religion.
"Advances in technology, evolutionary science and psychology have robbed traditional religions of much of their audience," she said.
"While Australians baulk increasingly at the metaphysical claims of organised religions, the emotional demand that those religions met has not diminished.
"With its solemn rites and incantations to sacrifice, worship and universal brotherhood, Anzac plugs a spiritual hole for many."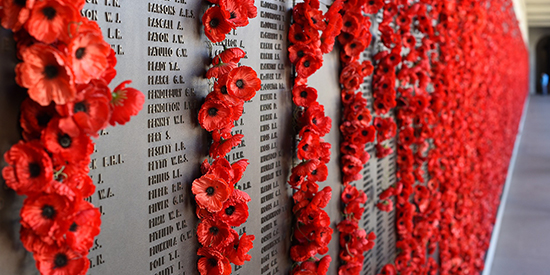 More like this
Media release
Faculty of Arts and Education, School of Humanities and Social Sciences
Alfred Deakin Institute for Citizenship and Globalisation (ADI)
---