Aussie waists widening faster than weight gain: Deakin study
Media release
20 December 2017
A new Deakin University study has shown that the waistlines of adult Australians are ballooning out of pace with increases to overall weight.
The study, published in the journal Preventative Medicine, showed women and men in 2011-12 had a 6.7cm and 2.8cm greater waist circumference respectively, compared to their counterparts of the same body weight and height in 1989.
Lead researcher Emma Gearon, a Research Fellow in Deakin's Global Obesity Centre and PhD candidate at Monash University, said the study compared three Australian population surveys in 1989, 2000 and 2011-12.
"Results showed waist circumference grew significantly more than would be expected, even when taking into account increases in weight over the same period, about 5.4kg for women and 7kg for men," Ms Gearon said.
Ms Gearon said the best hypothesis to explain why middles were thickening for adults of the same weight and height, was that people were increasingly carrying more fat and less muscle mass.
She said the changes meant the full scale of Australia's obesity problem was being missed.
"This discovery has important implications for how obesity is measured at a population level, right now we're missing a significant proportion of the population who are at risk," she said.
"Currently, when we look at population data to see the scope of Australia's obesity problem, we tend to rely on body mass index (BMI) figures alone, a calculation of a person's weight compared to their height.
"But this study shows that the proportion of individuals who are not obese according to their BMI, but are obese according to their waist circumference, has increased dramatically over time."
Ms Gearon said the issue was most pronounced for adult women.
"In 2011-12, one in ten women classified in the healthy weight range, half of women classified as overweight, and a quarter of men classified as overweight, according to their BMI, were actually categorised as obese according to their waist circumference.
"This represents 19 per cent of all women, and 11 per cent of all men."
Ms Gearon said this group of people had a similarly increased risk of high blood pressure, type 2 diabetes, cardiovascular disease and death as those individuals who had a high BMI.
"This study shows that we need further research to find the best way to detect and monitor obesity levels in Australia," she said.
"BMI is quick, affordable and easy to monitor at a population level, but this study demonstrates it's not effective on its own, and it needs to be re-evaluated. By relying on BMI alone we're severely underestimating the burden of disease associated with obesity.
"One of the foundation recommendations from the World Health Organisation for prevention and control of non-communicable disease is to have accurate population data.
"It's only if you have an accurate picture of what's going on that you can take action and then ensure that these obesity prevention measures are having the intended effect."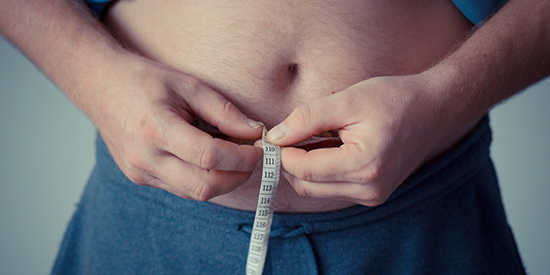 More like this
Media release
Faculty of Health, School of Health and Social Development
Centre for Population Health Research (CPHR)
---