Deakin Carbon Nexus joins 2018 SuperFoiler Grand Prix
Media release
09 February 2018
The world's fastest sailors have joined forces with cutting edge researchers from Deakin's Carbon Nexus research facility for the 2018 SuperFoiler Grand Prix series.
Deakin has announced it will be joining the SuperFoiler Grand Prix as the series' Tertiary Education Partner, ahead of the Geelong Grand Prix event to be held on Corio Bay from Friday 9 to Sunday 11 February.
The lightweight SuperFoiler boats rely on high-strength carbon fibre technology similar to that being developed at Deakin Waurn Ponds. The space-age material is used in their hulls, sails and foils to give them a super-light and super-strong structure that allows them reach speeds of more than 40 knots.
Carbon fibre is also being used to sculpt this year's SuperFoiler Grand Prix trophy, which is being designed and crafted by experts at Carbon Nexus.
Carbon Nexus Director Derek Buckmaster led SuperFoiler sailors Steve Thomas and Rhys Mara from Team Pavement on a tour of the state-of-the-art Waurn Ponds facility this week ahead of the event.
"Deakin Carbon Nexus is proud to be the Tertiary Education Partner of the 2018 SuperFoiler Grand Prix, an event that highlights the incredible things that can be achieved with the frontier materials invented and perfected right here in Geelong," Mr Buckmaster said.
"We've had the opportunity to serve as a pit stop for the sailors prior to their Geelong leg of the Grand Prix, and to lead them through some of the technical aspects of carbon fibre production. Our team is also working to run analysis on parts from a boat that was damaged during the most recent Adelaide race."
Team Pavement skipper Steve Thomas, who was part of the Ichi Ban crew declared overall winners of the Cruising Yacht Club of Australia's Rolex Sydney Hobart Yacht Race 2017, said his close-up look at Carbon Nexus was an informative experience.
"This is a once in a lifetime opportunity, as there aren't many of these facilities around," Thomas said.
"I'm super stoked to come here and learn more about carbon fibre and what's going on in the SuperFoiler."
The award-winning Carbon Nexus centre was established as part of the Institute for Frontier Materials at Deakin's Waurn Ponds campus in 2014 as a globally-unique, cutting-edge research facility to conduct basic and industrial-scale research into carbon fibre production methods and composite manufacturing.
It is the world's only open-access carbon fibre research facility, and contains Australia's first carbon fibre manufacturing lines and the first such lines in the southern hemisphere.
The 2018 SuperFoiler Grand Prix consists of races in Adelaide, Geelong, the Gold Coast and Busselton, culminating with a final leg around Sydney's Shark Island from 23 to 25 March.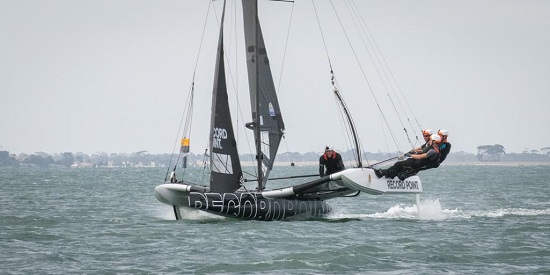 Key Fact
The lightweight SuperFoiler boats can reach speeds of more than 40 knots (75 km/h)
More like this
Media release
Institute for Frontier Materials (IFM)
Sport