Deakin helps lift women's footy to new heights
Media release
16 May 2017
Teams in the newly launched Eastern Region Women's Senior Competition, as well as those in the Eastern Region Girls under-16 and under-18 competitions, will now battle it out for the Deakin Cup, as part of a new sponsorship agreement announced today.
Thanks to the sponsorship, Eastern Football League players, club members and officials will also have the opportunity to apply for a Deakin University scholarship.
Deakin's Head of School for Exercise and Nutrition Sciences Professor David Crawford said the University was passionate about supporting women to achieve their goals and the sponsorship aligned with its dedication to inspire women to achieve at the highest possible level.
"We know how important it is for young girls and women to be able to excel at the sports they love at any level," Professor Crawford said.
"We know from research – including research that Deakin has done – that girls continue to drop out of sport before boys.
"But we also know that not only does sport offer benefits to health and fitness, it also improves emotional well-being and socialisation.
"On top of that, watching women's sport makes for excellent entertainment – so the positive flow on effects to the community are important too.
"As a university that is ranked number one in the world for sports science, we're proud to be partnering with Australia's largest metropolitan football league to help it grow even bigger."
Eastern Football League Chief Executive Officer Phil Murton said Deakin's support of female football would be of tremendous benefit for the growth of the game.
"This year alone we have 28 new teams across under-16, under-18 and senior women's footy," Mr Murton said.
"We are thrilled to have partnered with Deakin University whose reputation for sports science, sport management, and support of female sport in general is well-known."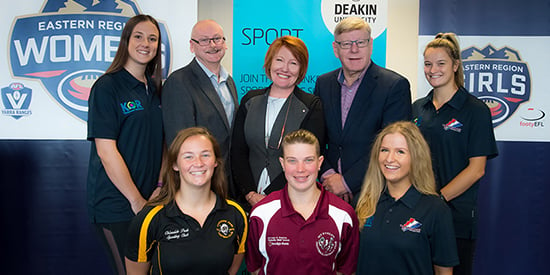 More like this
Media release
Faculty of Health, School of Exercise and Nutrition Sciences
Centre for Sports Research (CSR)
---
Related News
Deakin once again ranked world's best for sports science
Deakin University's School of Exercise and Nutrition Sciences has cemented its position as the world's best, according to the ARWU Global Ranking of Sport Science Schools and Departments 2017, coming in at number one for the second year running.