Deakin hosts national STEM education conference
Media release
05 October 2016
Inspiring students to choose maths and science subjects throughout their schooling will be one of the key themes discussed at Deakin University's first STEM Education Conference to be held at the Geelong Waurn Ponds campus from 5 – 7 October.
The national conference, which brings together teachers, university academics, researchers and STEM focussed organisations, was opened by the Hon. James Merlino, Deputy Premier of Victoria, and Professor Jane den Hollander, Deakin University Vice Chancellor.

Among the keynote presenters are Professor Richard Lehrer from Vanderbilt University in Nashville, who will discuss his theory of integrated STEM education, Professor Julian Williams from the University of Manchester, an expert on mathematics education, and Dr Linda Hobbs from Deakin University, who will discuss the Successful Students-STEM Program.

Dr Hobbs, who is also Convenor of the conference, said that the national conference is a great opportunity for schools to showcase how they are incorporating STEM into the curriculum.

"The conference includes nearly 60 papers, workshops and presentations so there's a lot for our delegates to absorb," Dr Hobbs explained.

"One of the keynote presentations is all about the Successful Students-STEM Program, a key project of the Skilling the Bay initiative.

"Now in its second year, the program involves teachers of years 7 and 8 students from a range of secondary colleges in Geelong who complete professional development programs with the ultimate aim of increasing the number of students undertaking STEM-related subjects.

"Teachers from six of the 10 Geelong schools involved in the program will be presenting in the keynote and talking about the programs they have initiated in their schools. For other delegates – many from primary and secondary schools – this will be a great opportunity to hear some real-life examples of what might be possible in their own schools."

Dr Hobbs said that the conference is also an opportunity for Geelong to showcase its innovative spirit.

"To have this forum in Geelong, where people are coming from across Australia to discuss STEM, I think really illustrates how innovative Geelong schools are becoming in response to the need for graduates and employees with critical thinking, digital numeracy, and conceptualisation skills – all skills that come from a solid background in STEM," Dr Hobbs said.

"As we work towards re-skilling our young people for the jobs of the future, it's critical that educators get together to discuss our progress and learnings."

Conference highlights include:
-Building STEM teaching capability in schools: a case study of the Successful Students-STEM Program (Dr Linda Hobbs, Deakin University);
- Integrating science and technology in kindergarten (Christine Preston, The University of Sydney);
- Evaluating the CSIRO Indigenous STEM Education Project (Michael Tynan, CSIRO);
- Growing Tall Poppies: Findings from a partnership program between students and scientists (Eroia Barone-Nugent, The University of Melbourne and Peter Hubber, Deakin University); and
- School tours of six Geelong secondary schools where delegates will see STEM initiatives in action and chat with students and teachers.
The full program is available at the conference website.
Media contact: Katie Thompson 0418 839 638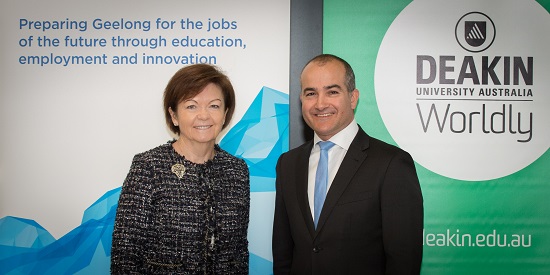 More like this
Media release
School of Education
---