Deakin opens state-of-the-art nursing and midwifery centre in Geelong
Media release
15 May 2018
Nursing and midwifery students will be educated in new simulated hospital wards and other clinical spaces thanks to Deakin's latest Geelong-based simulation centre, just opened at its Waterfront Campus.
Deakin University's School of Nursing and Midwifery has opened the new centre so that students' experience of real-life patient scenarios is enhanced as they pursue their degrees.
Interim Head of School Professor Nikki Phillips said the state of the art purpose-built simulation centre replaced teaching spaces at Waterfront Campus, providing a safe, supportive and realistic environment for students to develop core clinical nursing and midwifery skills.
"The simulated learning spaces replicate hospitals and community environments, familiarising students with these settings, the equipment in them, safety related issues, and potential challenges, enhancing their decision making in order to prepare students for what they will encounter when they go out on clinical placement," Professor Phillips said.
"An important part of the new centre is a high-fidelity simulation area, where staff control state-of-the-art advanced human simulators via a separate control room to create a variety of emergency and critical scenarios that students have to recognise and respond to.
"The advanced human simulators can be programed to simulate a variety of situations that students may encounter in the clinical environment including changes in a patient's condition, such as vital signs and heart rhythm, sweating, groaning, convulsing, and even crying.
"Through wireless technology, the patient's condition can be remotely altered to respond to interventions performed by students with the added advantage of a live voice response from the patient generated by a staff member in the control room.
"This adds another level of realism with students gaining authentic experiences in more challenging and stressful interactions with patients and families.
"There's also a debrief room where other students can watch and learn from their peers as the scenarios unfold."
Professor Phillips said a new dedicated community space provided the opportunity for students to develop the specific adaptive skills required when nursing people in their home and when caring for women and their babies in their home.
"Home care creates numerous additional challenges including the need to adapt to a non-hospital environment," she said.
"This space has a lounge room area, kitchen, bathroom and bedroom so students can think critically about how they would work safely in a home environment to deliver safe and quality care.
"Each week, the environment can be changed to reflect different risks students may face in a community nursing environment."
Professor Phillips said midwifery students would also be introduced to state-of-the-art equipment in the new centre, including high-fidelity newborn simulator and high-tech premature simulator, and birthing simulators to provide a realistic experience.
"The immersion of students in the clinical simulation centre allows them to make mistakes and learn in a safe, supportive environment," she said.
"Unexpected challenges can be anxiety provoking for students. Our educators support the student's learning experience after the simulation in formal debriefing sessions where the recorded scenario can be replayed and student responses to the actions during the scenario can be discussed and analysed, unpacking the learnings.
"These purpose built teaching spaces provide students with the facilities and equipment required to develop their knowledge, decision making abilities and practical skills, which are further enhanced through clinical placements at our partnering health care organisations to produce work ready graduates."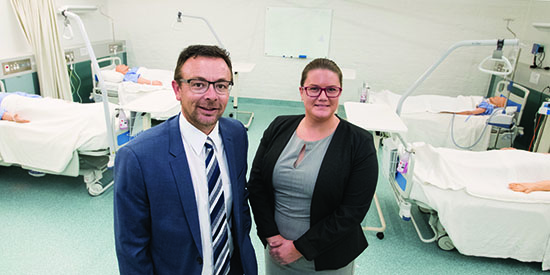 More like this
Media release
Faculty of Health, School of Nursing and Midwifery
---
Related News
New research by Deakin University and the Murdoch Children's Research Institute (MCRI) has put a spotlight on how adolescent girls' relationships with their parents can later affect their bonding experience with their own children.