Deakin has welcomed the Federal Government's announcement that it will provide funding to support an expansion of the University's ground-breaking ALLPlay inclusion program.
Deakin Vice-Chancellor Professor Jane den Hollander today joined Assistant Minister for Disability Services the Hon Jane Prentice MP for the funding announcement at the University's Burwood campus.
The Federal Government support will enable the establishment of ALLPlay Dance - aimed at creating an inclusive space at dance schools for children with disabilities - and BETTAFooty - a targeted ALLPlay program for indigenous communities.
The funding support will be provided through the Government's Information, Linkages and Capacity Building (ILC) National Readiness Grants, which Professor den Hollander said was a perfect fit for ALLPlay as both would create connections between people with a disability and their communities.
"Deakin University is passionate about supporting the communities we serve, which is exactly what the ALLPlay program is about," Professor den Hollander said.
"We know that ongoing physical activity has lasting physical and social health benefits for all of us.
"ALLPlay Dance will mean more children with a disability can participate in routine activities in their communities, while Deakin researchers will be able to gather more evidence to show why participation is important for all children, regardless of ability."
ALLPlay creator Professor Nicole Rinehart, Director of the Deakin Child Study Centre, said the new dance and football programs would each include the development of a targeted, interactive resource to help children, their parents, coaches and dance teachers be more inclusive on the dancefloor or footy field.
"Children with developmental challenges, such as autism, ADHD, cerebral palsy, language disorders and intellectual disabilities, often feel their disabilities are a barrier to participating in team activities," Professor Rinehart said.
"ALLPlay is about opening up opportunities to participate in activities like footy and dance to all children, because we can see that it has such a positive impact on not just their physical development, but their social development too."
The new funding will also support research to evaluate the benefits of participating in these physical activities for children with disabilities.
ALLPlay was established last year with an initial $1 million donation from Moose Toys, before launching its first program - ALLPlay Footy - alongside this year's AFL Auskick season.
Professor Rinehart said she was delighted that the initiative would expand to reach other parts of the community, with the two new programs set to be launched later this year.
"ALLPlay Dance will address the significant gap that exists between the desire of children and young people with disabilities to participate in dance and the current lack of best practice inclusive programs," she said.
"BETTAFooty will be rolled out to indigenous communities in Bendigo, Victoria, Griffith, NSW, and the APY Lands in South Australia to help kids get more confidence on the footy field."
Professor Rinehart said one in five indigenous children lived with some kind of developmental disability.
"By harnessing the passion for football that's a feature of Aboriginal communities across Australia, and with the support of culturally-sensitive materials and training, BETTAFooty will build community understanding of this issue and help children gain critical skills and self-esteem," she said.
ALLPlay is a national project to enable children of all abilities access to sport. The project is led by Deakin University, in partnership with the AFL and the NDIA, and research collaborators at Charles Darwin University, Perth's Telethon Institute and the University of Melbourne.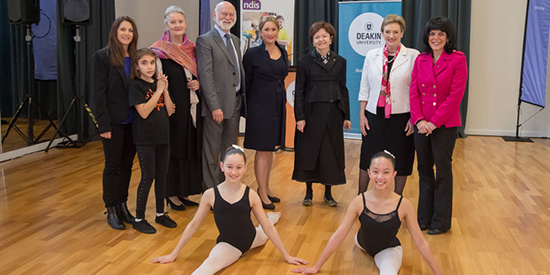 More like this
Media release
Faculty of Health, School of Psychology
Centre for Social and Early Emotional Development (SEED)
---
Related News
Boost for Deakin research empowering women and girls
4 July 2017
Deakin's innovative inclusion program ALLPlay has received a boost thanks to MECCA Brands' MECCA M-Power initiative, which aims to empower women and girls around the world by championing education, independence and entrepreneurship.