Education pioneer retires from Deakin
Media release
26 July 2017
The end of an era was celebrated at Deakin today with the retirement of the University's longest serving staff member.
Jenny Grenfell taught visual arts with the School of Education when she started in 1974 as one of the University's inaugural staff members. Her overall service dates back to 1969 as she also taught at the State College of Victoria Geelong, one of the University's antecedent institutions.
Against the backdrop of wind-swept cow paddocks, Mrs Grenfell and her colleagues were education pioneers, writing a new curriculum for Deakin's first on campus students while having to adapt the courses for delivery to students studying off campus.
"We were all excited to be part of the new Deakin University and couldn't wait to move out of the portable offices at the State College and into new accommodation," Mrs Grenfell said.
"However, with only one building on the Waurn Ponds Campus at the time there wasn't enough space for everyone so you could imagine our disappointment when the portables followed us and were our home for many years.
"Not only did we have little in the way of buildings when we came, as a new university there were no established courses so we spent the first 12 months writing new courses. It was really exciting because we could plan what we wanted.
"With Deakin established as a distance education university we were also writing for off campus students. It was exciting to be part of the team developing the first off campus arts education unit to be offered in a Master of Education in Australia. We were really boundary breaking."
A pioneering spirit has been the hallmark of Mrs Grenfell's time at Deakin as she embraced every advancement in technology over the years to ensure her students had the very best learning experience.
"The challenge with developing materials for off campus students, as it is with on campus students, is to write in a style that engaging. It had to be a narrative but also had to be written in a way of that enabled students to enquire and explore and feel enthusiastic about gaining more knowledge.
"And then we used the latest technology which was print, slides and audio tapes in the early days. Technology then evolved to include the use of video tapes and then CDs and then the internet arrived.
"With the introduction of web-based learning materials we had to develop CDs with self-extracting web sites for those people who were in isolated areas and didn't have internet access so they could actually access the materials in a web form but didn't have to be connected to the internet.
"Each technological development was exciting and a huge learning curve because we were moving once again into a new way of working.
"We developed television programs as a way of presenting in-service teacher training. Then I got involved in the use of virtual worlds and blended learning where we had online study materials linked to virtual worlds like Second Life for developing learning environments and interacting with people all around the world.
"Now we are working in the cloud and I had two of the first unit used as exemplars in the move to the cloud.
"It has been really exciting because a key question you ask yourself with each change in technology is how can students best learn and how can I use new technology to enhance their learning and put the students in charge of their own learning so that you are presenting materials but also providing a place where students can interact with the material s and then create their own knowledge.
"I would have loved to work with the 3D technology available today but I have run out of time."
Among Mrs Grenfell's fondest memories of Deakin's early days was the comradery and support of the University executive team.
"Coming from a teachers college, the move to being part of a university was a huge learning curve. The likes of Fred Jevons (Deakin's first Vice-Chancellor), Max Charlesworth, Patrick Hutchings and Ian Wallace were unique people, people with vision who set up the faculties and the schools and provided us with important intellectual leadership. It was a fantastic time filled with such enthusiasm and not constrained by tradition," Mrs Grenfell said.
"Deakin set out to be a university with difference and I think that is one of the things that continues to resonate throughout the University so many years later. One of the things about the University is that it is different and the students are at the centre of what we do. And that is something that I hope Deakin never loses."
Mrs Grenfell said that what she will miss most about retirement is the students.
"I hope that I have contributed to my students' love of the teaching profession, particularly in the arts," she said. "I have had some of the most amazing students over the years, they have been just gorgeous and that is what I will miss more than anything."
Education will not be far from Mrs Grenfell's life in retirement as she plans to complete the PhD she has been doing for the last 30 years which fittingly looks at her teaching and learning journey.
"I plan to finally complete the PhD I started 30 years ago. It is a bit of a nomad's journey, taking a number of my papers and book chapters and putting them into a narrative that is my teaching and learning journey in arts education."
She will also enrol in a studio practice course to focus on her first love, textiles and print making. And then there is her garden, "but let's not talk too much about that," Mrs Grenfell said.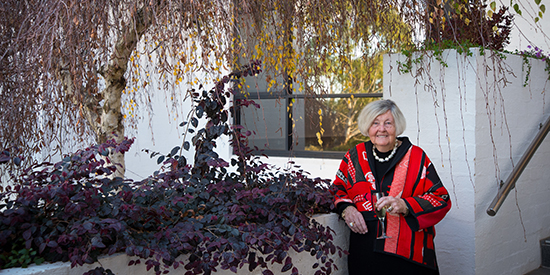 More like this
Media release
Faculty of Arts and Education, School of Education
---