Heritage Under Fire: Deakin expert breaks down the Islamic State's destructive tactics
Media release
29 January 2018
The Islamic State may have been driven out of strongholds in Iraq and Syria, but a Deakin Middle Eastern studies expert believes that the legacy of their heritage destruction in the region will last for generations to come.
Associate Professor Benjamin Isakhan of the Alfred Deakin Institute for Citizenship and Globalisation (ADI) will this week join leading heritage scholars, defence personnel, NGO leaders and archaeologists for a Heritage Under Fire symposium to discuss how our global heritage is being destroyed like never before.
Associate Professor Isakhan said the Islamic State's destruction of heritage sites with sledgehammers, power tools and explosives was part of a deliberate agenda of modern digital age "iconoclasm" – the destruction of icons for religious or political reasons.
"Iconoclasm is a recurring human phenomenon – from the defacement of the Golden Calf by Moses to the toppling of the statue of Saddam Hussein in Baghdad, an event that was carefully staged and documented by the US Army to symbolically mark the end of the regime," he said.
"But the Islamic State represents the first time in the history of iconoclasm that a militant faction has issued propaganda films focusing solely on heritage destruction.
"These videos are among their most successful propaganda, because they're designed to attract and indoctrinate recruits; to mobilise their support base; to strike fear into the hearts of locals; to inflame and infuriate ideological and religious opponents; and to shock Western audiences."
Associate Professor Isakhan, who is Chief Investigator on a major ADI project documenting heritage destruction in Iraq and Syria, said the IS war on cultural heritage was "an extension of the battlefield".
"Heritage destruction by the IS serves as a physical embodiment of IS ideology," he said.
"Terrifying local populations and horrifying global audiences, it creates a carefully staged recording of the process of heritage destruction, with videos edited to show the before, during and after of the moment of destruction."
Associate Professor Isakhan said the Islamic State's destructive tactics also fuelled the Syrian conflict, leading Shia militias and other actors to adopt a "shrine protection narrative" to justify their own extreme violence.
"In terms of political violence, the various Shia militias active in Syria have been involved in some of the most gruesome violence of the civil war to date," he said.
"The shrine protection narrative has been cynically deployed as both a recruitment tool and in order to provide legitimacy to those already active in Syria and Iraq.
"The need to protect religious sites from the Sunni IS legitimised the entry of foreign Shia militias into the conflicts in both Syria and Iraq, rapidly escalating the sectarian dimension of the two wars."
Associate Professor Isakhan said the destruction of culturally significant sites can also lead to "a breakdown in social cohesion, affecting nation-building efforts long after the main conflict has ended".
"Considering the scale of heritage destruction in Iraq since 2003, it's no wonder that inter‐communal tension and violence is still such a prominent force in the complex politics of contemporary Iraq," he said.
"The failures of the US and UK‐led occupation to protect key sites during the Iraq War, and their use of others as military bases, saw the supposed 'liberators' deliver some of the most devastating blows to Iraq's past."
The ADI Heritage Under Fire symposium is being held Friday 2 February at Deakin University Downtown in 727 Collins St, Melbourne.
The event is sponsored by the Department of Defence and Blue Shield Australia, part of an international committee working to protect cultural heritage threatened by armed conflict and natural disasters.
Key speakers at the symposium will include UNESCO Chair in Cultural Property Protection and Peace Professor Peter Stone, Australian Red Cross International Humanitarian Law legal advisor Tara Gutman and heritage experts from Deakin, Macquarie and Flinders Universities.
Find out more at deakin.edu.au/about-deakin/events/heritage-under-fire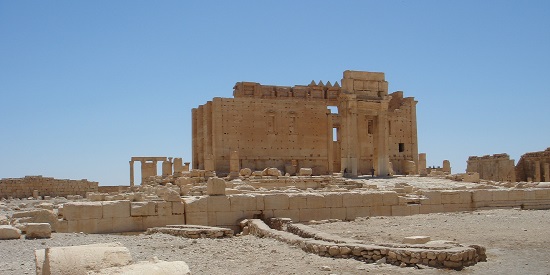 Key Fact
The ADI Heritage Under Fire symposium is being held Friday 2 February at Deakin University Downtown in 727 Collins St, Melbourne.
More like this
Media release
Alfred Deakin Institute for Citizenship and Globalisation (ADI)
---