Study of western Vic shows rural residents most at risk of hip fracture
Media release
18 December 2017
People living in western Victoria's most remote and poorest local government areas have the greatest risk of hip fracture, a costly injury that can cause life-threatening complications, a Deakin University study has found.
The research forms part of the larger Ageing, Chronic Disease and Injury study, supported by Western Alliance, and was recently published in the journal Bone. It analysed hospital admissions from 2010 to 2013 in the western Victoria region for men and women over the age of 40.
During that period, 1305 western Victorian men and 2903 women were admitted to hospital for a fractured hip.
Lead author Dr Kara Holloway, a Research Fellow at Deakin and Barwon Health's Centre for Innovation in Mental and Physical Health and Clinical Treatment, said the data showed increasing age, higher remoteness and lower socioeconomic status were all associated with higher hip fracture rates.
"The highest rates of hip fracture were in the 'less accessible' local government areas of Yarriambiack and Hindmarsh, as well as in Central Goldfields, which has the region's lowest socioeconomic status," she said.
"Urban areas like Geelong, Ballarat and Warrnambool had comparatively lower rates of hip fracture."
Dr Holloway said this was likely due to the under-treatment of osteoporosis in rural areas.
"In Australia health is generally poorer in rural residents due to lesser accessibility to health services," she said.
"We know that those living in rural areas are three times less likely to have their bone strength tested - a key determinant of osteoporosis and fracture risk - than those who live in urban areas.
"They are also less likely to use vitamin D or calcium supplements, and are less likely to know they have osteoporosis or receive treatment to manage it.
"There are a number of risk factors associated with lower socioeconomic status that impact on hip fracture risk too - poor diet, lower physical activity, and higher levels of smoking and drinking."
Dr Holloway said it was critical more people were aware of the life-threatening injury and what could be done to prevent it, especially as Australia's population aged and grew more vulnerable.
"Hip fractures are very unpleasant, they often mean a lengthy hospital stay and are extremely expensive for Australia's health system to manage," she said.
"Between 2008 and 2009 the average hospitalisation for a hip fracture lasted almost 31 days and cost between $23,000 and $33,000.
"People with osteoporosis are more likely to break their hip, so it's critical older people are getting bone density scans and regularly taking the right medication if they are diagnosed with osteoporosis.
"But people often don't think about osteoporosis, and it seems to be one of those conditions that you don't know about until you fracture a bone, and then the damage is already done."
Dr Holloway said there were plenty of simple lifestyle changes people could make to help keep their bones healthy.
"That includes eating the recommended daily serving of vegetables, getting enough calcium and vitamin D, engaging in regular weight-bearing exercise, not smoking, and reducing their alcohol consumption," she said.
"Falls are an issue too, that's when the fractures can happen. So we need to ensure people are using mobility aids if they need them, as well as properly installing equipment such as railings and non-slip mats, plus removing tripping hazards like rugs and cords."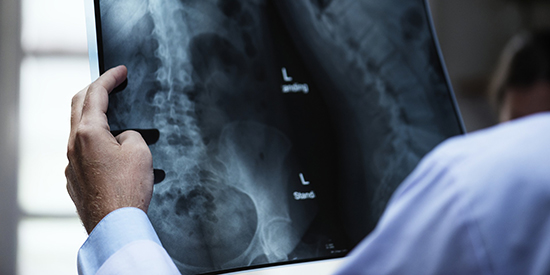 More like this
Media release
Faculty of Health, School of Medicine
Innovation in Mental Physical and Clinical Treatment (IMPACT)
---