Vale Dr Richard Searby AO QC, Deakin's fourth Chancellor
Media release
09 August 2018
Deakin Vice Chancellor Professor Jane den Hollander AO has paid tribute to the University's fourth Chancellor Dr Richard Searby AO QC, who sadly passed away on Wednesday. Dr Searby was Deakin Chancellor from 1997 until the end of 2005.
"During Dr Searby's distinguished tenure as Deakin Chancellor he led the transformation and strengthening of governance of the University, reflecting his legacy as both an expert and thoughtful leader," Professor den Hollander said.
"Dr Searby made a most significant contribution to our University and the wider community. On behalf of the Deakin community, we are deeply saddened by this news and send condolences to Dr Searby's family for their loss."
Dr Searby was a leading member of Australia's legal fraternity and held a vast array of company directorships. He was awarded the honorary degree of Doctor of Laws in recognition of both his outstanding contribution to Deakin University as Chancellor and his contribution to fields of education, the law, the arts and to business.
His contribution was further recognised in 2006 when he was made an Officer of the Order of Australia 'for services to education, particularly as Chancellor of Deakin University, to the community as a contributor to the programs of major cultural institutions, and to business and the law'.
For many years, and until failing health prevented his attendance, Deakin honoured Dr Searby with an occasional Searby Oration.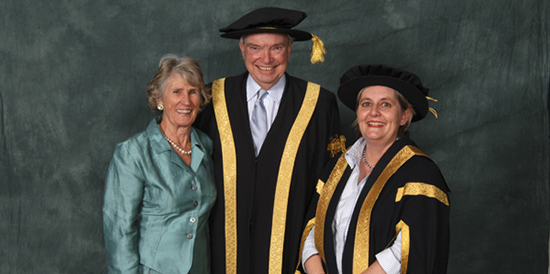 More like this
Media release