Deakin student part of research to find life in Australian abyss
Deakin news
27 June 2017
A Deakin University Warrnambool student is part of a pioneering research voyage to uncover life 4000 metres below the surface in Australia's eastern abyss.
Marine biology third-year student Jasmine Bursic has joined an international team of 40 scientists on the recently completed month-long Sampling the Abyss voyage on the Marine National Facility research vessel Investigator.
It is the first time the biodiversity of these abyssal areas has been explored and Ms Bursic said that many "whacky and interesting" deep sea creatures had been found from Tasmania to Queensland.
At this depth there is no light, however a lot of the animals are bioluminescent, meaning they create their own light. Invertebrate animals rule the domain and there has been high diversity of echinoderms, such as seastars and sea cucumbers, and crustaceans.
"We've also pulled up a manta ray carcass, a whale skull and vertebrae, and lots of interesting fish such as faceless fish and blob fish," Ms Bursic said.
"Every day has been different and always full of surprise and wonder, including the day the net came up with a tonne of mud. We spent hours sieving through it to find surprising well-preserved animals."
Ms Bursic said she was lucky to be a part of the action, going on deck to collect animals from the net, sorting and identifying them in the lab and preserving animals, recording data and storing specimens.
"The experience has been absolutely amazing and I've been so lucky to be surrounded by amazing scientists from all over the world," she said.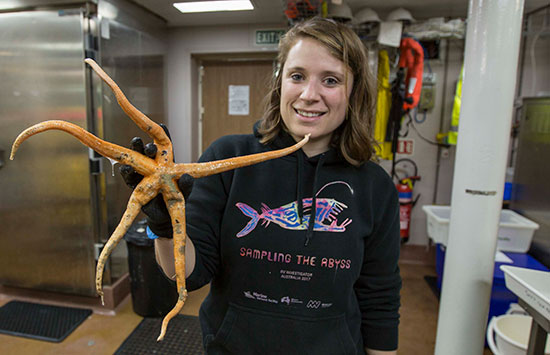 Ms Bursic is originally from Melbourne but moved to Warrnambool in 2015 to study a Bachelor of Environmental Science (Marine Biology) at Deakin.
"I was accepted into a few universities around Australia but chose Deakin because studying and living on the coast in a regional town was perfect," she said.
"The course also has a great variety of marine-based subjects, extensive time in the laboratory and in the field, and with smaller class sizes I've been able to build great relationships with the academic staff."
Ms Bursic has also enjoyed volunteering for dolphin conservation in Zanzibar, Africa and a study tour in Japan.
As a part of her degree Ms Bursic completed a work placement at the Melbourne Museum with marine invertebrates senior curator Dr Tim O'Hara, who is leading the Sampling the Abyss voyage.
The research is being conducted in newly created marine reserves and the data gathered on the trip will highlight biodiversity and help to assist in its conservation and management to protect it from impacts of climate change, pollution and other human activity.
---