Deakin University will be represented for the third year in a row at the Shell Eco-marathon Asia in Singapore from 16 to 19 March 2017.
The Shell Eco-marathon competition challenges student teams to design, build, test and drive ultra-energy-efficient vehicles at three annual events in Asia, the Americas and Europe.
The Deakin SurfCats team will be one of more than 100 student teams from over 15 countries that are expected to take part in the Asia competition this year.
Deakin mechanical engineering student, Andrew Blake, is the assistant team leader. He says that while the team hopes to improve on last year's result with their new design, "more importantly, this is a learning experience that has and will enrich our development as engineering students".
The team would like to thank Carbon Revolution, Deakin University and the School of Engineering for their ongoing support.
Keep up with the Deakin team on Facebook
Find out more about studying engineering at Deakin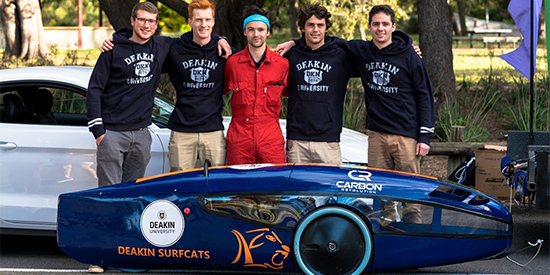 The Deakin SurfCats team, who'll be taking part in this year's Shell Eco-marathon Asia
Key Fact
The Deakin SurfCats team will be taking part in this year's Shell Eco-marathon Asia.
---
Related News
Expo celebrates the now and then of engineering at Deakin
16 November 2016
Deakin University undergraduate engineering students presented their final year projects to an audience of industry partners, engineering advisory board members, alumni, staff, fellow students and other guests at the 2016 Engineering Expo at the Geelong Waurn Ponds Campus in October.