What is being billed as larger than space and more durable than paper? PaperSpace, Deakin University's School of Architecture and Built Environment's annual student exhibition.
PaperSpace showcases outstanding work from architecture, construction management, landscape and planning undergraduate and master's degree students.
The ideas at the 2015 exhibition, held in the expansive atrium of Melbourne's Federation Square, were noted as 'bigger than space and more durable than paper'. The works ranged from socio-political issues surrounding refugees and the homeless to the challenge of intervening into Michelangelo's greatest architectural space, with research into virtual museums.
In 2016 PaperSpace is showing in both Melbourne and Geelong, providing more opportunity to see the exciting work of some of our future architecture and built environment professionals. The exhibition is open to the public and school and industry group guided tours can be arranged. For more information please email the School of Architecture and Built Environment.
Exhibition details:
Melbourne
Monday 31 October to Friday 4 November 2016
The Atrium, Federation Square, Melbourne
Geelong
Tuesday 8 to Friday 18 November 2016
The a+b Gallery
Geelong Waterfront Campus
Related links: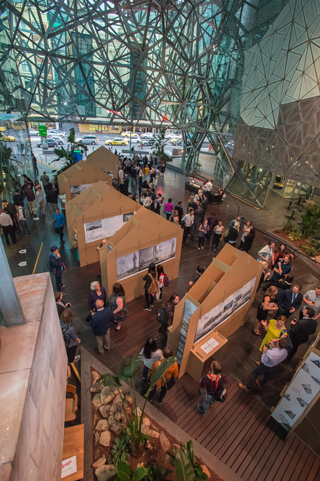 ---
Related News
#VacantGeelong project remembering industry through art
28 February 2017
The next phase of Deakin University's #VacantGeelong project is set to bring together artists, the Geelong community, past Ford workers and Deakin architecture students after receiving State Government funding.