Mechanical engineering program brings students from China to Geelong
Deakin news
22 August 2017
Students from Wuhan University of Science and Technology (WUST) in China experienced what's on offer at Deakin University's School of Engineering during a two-week visit in July.
The 15 students are part of the Deakin and WUST Joint Program in Mechanical Engineering. They were chosen for the tour based on academic merit.
Dr Yanan Wang, Senior Lecturer in Mechanical Engineering (International Partnership) at Deakin, helped host the students during their visit.
'The visit was to give students in the joint program a taste of what we do at Deakin's School of Engineering,' Dr Wang says.
'Hopefully they will then come and study with us after they have spent two and a half years at WUST.'
During their first week the students attended English classes at the Geelong Waterfront Campus, toured the Geelong Waurn Ponds Campus and Centre for Advanced Design in Engineering Training (CADET), as well as enjoying social and sports activities.
The second week of the visit was all about engineering. Activities included workshops in advanced manufacturing and 3D printing, an overview of the Warman Design and Build Competition and a visit to Deakin's Carbon Nexus facility.
A farewell dinner wrapped up the students' time in Geelong before they headed for Melbourne and their return to China.
Deakin's Faculty of Science, Engineering and Built Environment and the International School at WUST financially supported the study tour.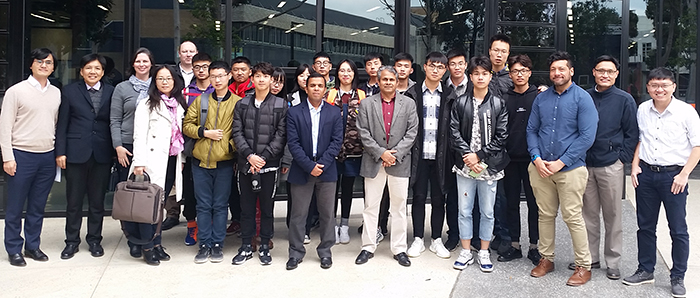 ---