PaperSpace is Deakin's annual architecture and construction management student exhibition showcasing outstanding work from undergraduate and master degree students. As noted in the exhibition brochure "the ideas here are bigger than space and more durable than paper". The works ranged from socio-political issues surrounding refugees and the homeless to the challenge of intervening into Michelangelo's greatest architectural space, with discursive research into virtual museums.
PaperSpace was originally only held in Geelong but for a second year running PaperSpace was transported to Melbourne's CBD. This year's exhibition was held in the expansive atrium of Federation Square with the opening night attracting over 500 guests, notably Peter Maddison – the host of Grand Designs Australia.
The exhibition was formally opened by Sean Godsell, one of Australia's most internationally renowned architects, using a football, talent and teamwork analogy to place the students and their work in the context of architecture's cultural civic role.
As noted by Professor Des Smith at the opening 'Architecture is not presented here as "buildings I'd like to do". These works concretize a concern for understanding and character. They are presented as places and spaces of comprehensive engagement with social, political and environmental responsibility. There is a leadership quality to this, which is inherent in the very nature and societal position of being professional – but they are not being presented in the Frank Sinatra manner of "do it my way". These works are propositions and invite engagement.'
The Melbourne exhibition was open to the public for five days with an estimated 10,000 people passing through the exhibition during Melbourne Cup week 2015, including numerous community and industry representatives, students, staff, families and friends.
Find our more about our courses in architecture and construction management or the PaperSpace exhibition.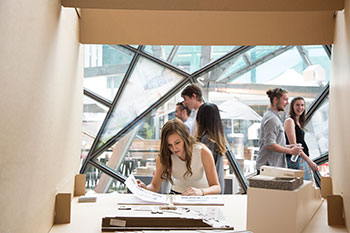 Key Fact
Paperspace was open to the public for five days, with an estimated 10,000 people passing through the exhibition during Melbourne Cup week 2015.
---
Related News
Student voyage of marine discovery
6 February 2018
Mapping the ocean floor and observing sea life were some of the experiences two Deakin students had at the inaugural CAPSTAN sea training voyage last year.