Scholarship a sign for new Warrnambool student
Deakin news
23 March 2017
A scholarship was a sign to Adelaide student, Nadia Thredgold, that it was time to make a life-changing move to Warrnambool.
Ms Thredgold is one of 18 new scholarship recipients at the Deakin University Warrnambool Campus and admits she probably wouldn't be here if it wasn't for the support.
"It's so generous," she said. "I wouldn't have made the move without it."
Ms Thredgold, 19, is happy the stars have aligned and set her on the way to her preferred career in midwifery.
"I had applied and received an offer for the nursing and midwifery course but had sort of forgotten about it. Then I found out about the scholarship and when I was successful I took that as a sign that I should go."
It is her first time living outside of Adelaide and Ms Thredgold admits she knew little about Warrnambool or Victoria before moving there.
She found out about the Deakin University nursing and midwifery double degree from a friend who lives in Colac.
"I was doing nursing in Adelaide for two years but I really wanted to move into midwifery. Warrnambool has a double degree which we don't have in Adelaide. That was really appealing to me; I can get to study exactly what I want to do and get it done a bit faster."
Ms Thredgold also received a discount on her student accommodation and is settling in nicely. "I really enjoyed O-week and meeting new people," she said. "The teachers are so helpful and it's so much better with smaller classes. If you can't get access to your lecturer, it's easy to lose motivation."
Ms Thredgold said the scholarship would make life easier while she studies.
"I've never received anything like this before so I was very pleased. Moving to a new state for four years is pretty tough so it will help to relieve the financial pressure," she said.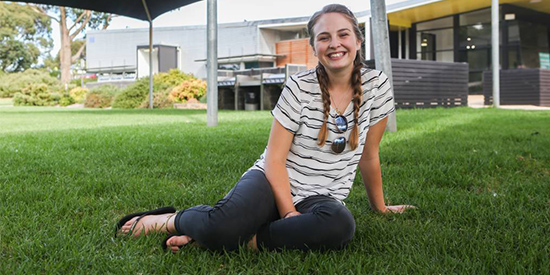 Key Fact
Nadia Thredgold, 19, has received a scholarship to study nursing and midwifery at Deakin's Warrnambool Campus.
---