Student designs presented at Government House
Deakin news
07 August 2017
Deakin University architecture students have presented their creative concepts for the Government House Peace and Prosperity Garden to a panel headed by the Governor of Victoria, the Hon. Linda Dessau AC.
The panel included the Governor's husband Mr Anthony Howard QC. The Governor and Mr Howard developed the design project for students as part of their support for the design and creative industries in Victoria.
Eight design teams – two each from Deakin University, RMIT, Monash University and the University of Melbourne – were selected by their lecturers for the opportunity to present to the panel at Government House.
Their brief was to design a garden entrance, gates, shade and garden furniture as part of their course work that creatively interprets the 'Peace and Prosperity' theme, makes a respectful contribution to the Government House landscape, can be readily constructed and is functional and durable.
Deakin architecture students Angus Wishart and Matthew Gulli presented their proposal which was to physically manifest the conceptual themes of the garden and the Victorian Coat of Arms 'Peace & Prosperity'.
Image: Design proposal by Angus Wishart and Matthew Gulli
Deakin architecture student Nicholas Malcher presented his work entitled 'Reflections on Peace and Prosperity' a scheme that is achieved with reflections, which allow the users to contemplate and confirm their own existence in this space.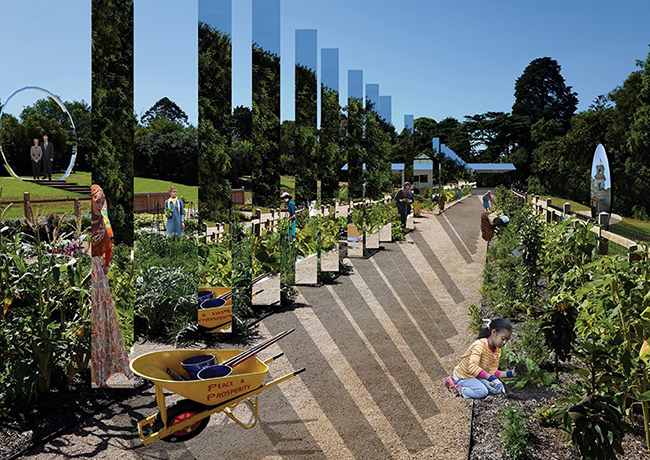 Image: Design proposal by Nicholas Malcher
The Governor congratulated the design students on being selected to present their ideas.
'I was impressed with the innovative ways the brief was interpreted, the creativity and level of detail in the concepts and the different ways the 'peace and prosperity' theme was incorporated into the designs,' the Governor said.
'This project has reinforced for me the depth of design talent we have coming through our tertiary institutions, and the strength of the design and creative industries in Victoria.'
The Governor and Mr Howard sponsor the Peace and Prosperity Kitchen Garden Program as part of their aim to open up Government House to a diverse range of Victorian community members and uses.
The garden's name reflects the State's motto: 'Peace and Prosperity'.
You can read more about the Deakin students' proposals on the School of Architecture and Built Environment A+Blog.
---