Students shine at annual School of Health and Social Development Awards
Deakin news
08 August 2017
Students and recent graduates were honoured for their hard work at the recent annual School of Health and Social Development Awards.
Current students and recent graduates were joined by alumni and staff at the School of Health and Social Development Student Awards, held on Thursday 27 July at Deakin Downtown.
Opening the ceremony, Deakin's Vice Chancellor Jane den Hollander congratulated all students – and particularly their parents – on their hard work and the rewards that have come from it. Hard work and family support were the two recurring themes of the evening.
Kate Hills, Deakin alumna and winner of the Young Alumni of the Year Award in 2012, delivered the main address. Kate shared her journey from graduate to a highly rewarding career in health promotion. She spoke of the three traits most common to her experience in health promotion – empathy, gratitude and mindfulness – and how each of these have guided her in her work with overseas aid agencies in developing countries, as well as her current role in community development on the Mornington Peninsula and caring for her mother in her recovery from a diagnosis of cancer.
Dr George Dyer presented his award to Taylor Nally, the most outstanding student completing the Health Sciences major, People, Society and Disability. Dr Dyer commented that he was hopeful for the future, with all award winners sharing the same goal of making a difference in health and social equality. He felt 'humbled in the presence of people who do so much.'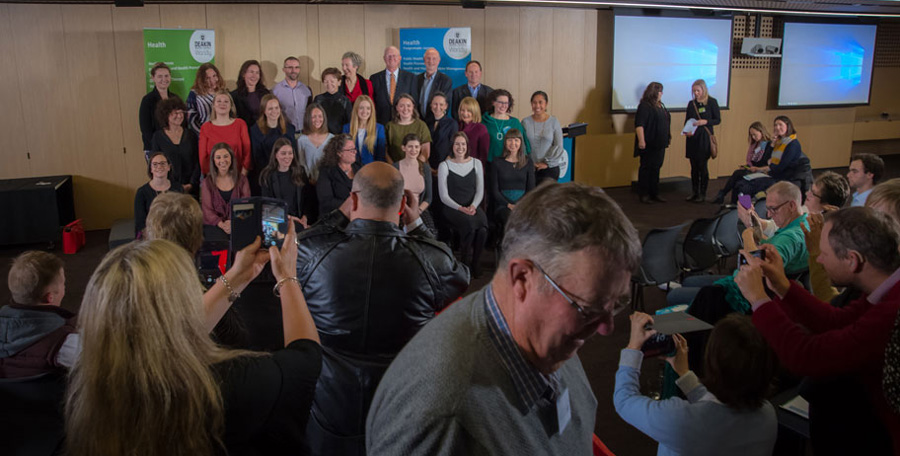 This year also saw the inaugural Susan Esdaile Prize awarded for the most outstanding thesis relevant to parenting and child play therapy. The recipient was Carolyn Williams, for her thesis exploring the relationship between written narrative and pretend play abilities in early primary school aged children.
Susan Esdaile was an occupational therapist and psychologist with an international reputation for her research on mothering occupations and mothering and disability. As a mentor to Deakin's Professor Karen Stagnitti, she was an inspiration behind the development of play therapy in Australia. Upon her death in 2013, she left a legacy to Deakin University and thus this award was created.
'This tribute to her legacy reminds us that humility, passion, and hard work are highly valuable attributes for all practitioners in the health services', said Professor Stagnitti.
Key Fact
This year saw the inaugural Susan Esdaile Prize awarded for the most outstanding thesis relevant to parenting and child play therapy.
---