Our reputation and history
Through its agenda LIVE the future, Deakin aims to build the jobs of the future, using the opportunities of the digital age to widen access to education and make a difference to the communities it serves.
Deakin enjoys a reputation for being accessible, helpful and friendly. It has a longstanding record for its use of cutting-edge information technology while providing highly personalised experiences, whether in the cloud on Deakin's media-rich campuses or through a combination of cloud and campus learning.
---
---
Deakin at a Glance 2013
Deakin today has over 47,000 students of whom 17% are international students from over 127 countries. 13% of Deakin's students study wholly 'in the cloud'.
Deakin at a Glance 2013 contains information about Deakin University's student enrolments, graduate outcomes and research performance.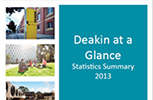 PDF
317 KB
---
Deakin's history
Established in 1974, Deakin was Victoria's fourth university and the first in regional Victoria. In 2014 Deakin celebrates its 40th anniversary.
Deakin has been strengthened by a series of successful mergers with strong partners, each of whom has contributed significantly to our character and approach.
Today, Deakin operates in a global, connected world with the digital economy influencing every aspect of our activities.
Deakin's interactive timeline tells the Deakin story from 1974 through to Deakin today.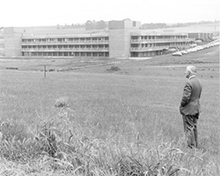 Page custodian: Office of the Vice-Chancellor Last updated: