Our reputation and history
Learn about Deakin's history and how we've rapidly grown to become one of Australia's most respected and awarded universities.
---
Awards and achievements

Deakin is renowned for:
excellent teaching and innovative course delivery
a student-focussed culture
being accessible, helpful and friendly.
Deakin is a sector leader for student satisfaction, currently first in Victoria and third in Australia (Australian Graduate Survey).
Deakin was awarded a 5-star rating by the prestigious university ranking organisation Quacquarelli Symonds (QS).
Teaching awards and research success
Deakin regularly does well in national awards for teaching excellence.
Deakin has achieved considerable success in ARC and NHMRC grants and the Australian government's Excellence in Research (ERA) initiative has assessed much of Deakin's research as being either world-class or above world standards.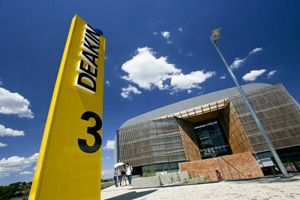 ---
Deakin's history
Established in 1974, Deakin was Victoria's fourth university and the first in regional Victoria.

Deakin has been strengthened by a series of successful mergers with strong partners, each of whom has contributed significantly to our character and approach.
Today, Deakin operates in a global, connected world with the digital economy influencing every aspect of our activities.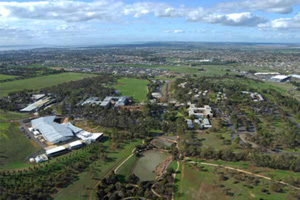 ---
Deakin facts and statistics
Deakin is Australia's 9th largest university with over 42,000 students, of whom approximately a fifth are international students from over 100 countries.
Our students
Deakin has over 42,000 students
We have more than 8,000 international students from over 100 different countries
29% of our students study off-campus, while 35% of our students study part-time
40% of our domestic students, and 28% of our international students, are mature age (25 or older)
More than 22% of our domestic students come from regional and remote areas
2% of our students are indigenous (the largest number of indigenous students at any Victorian University)
Almost 5% of our students have a disability
Our staff and resources
Deakin employs more than 3,300 staff.
47% of our staff are Academic (lecturers and teaching staff)
Our library holds more than 1.5 million books
Our buildings have a total floor area of 414,000 square metres, and we're still building.
More information

PDF
441 KB