Strategic direction
'We live at a time when innovations present remarkable opportunities for new forms of education.'
LIVE the future: Agenda 2020 is Deakin University's plan for a bold and exciting future, defining and distinguishing it through to the end of 2020.
The world is now globally connected, with excellence and new ideas available at the touch of a button. Deakin will embed engagement and innovation 'anywhere' and at 'any time'.
LIVE the future: Agenda 2020 brings the opportunities of the digital age into the real world of Learning, Ideas, Value and Experience.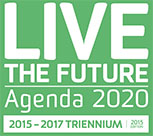 Learning: Offer a brilliant education where you are and where you want to go.
Ideas: Make a difference through world-class innovation and research.
Value: Strengthen our communities, enable our partners and enhance our enterprise.
Experience: Delight our students, our alumni, our staff and our friends.
---
Quality and standards
Deakin is committed to quality and accountability in all our operations, ensuring that there are appropriate processes in place to maintain and enhance the quality and integrity of our research, teaching and learning and how we engage with the communities we serve.
Deakin maintains the quality, standard and integrity of our academic programs through our policies and by planning, conducting surveys, analysing business intelligence data and ensuring we comply with TEQSA requirements.
We provide our researchers with induction, training and support in:
research integrity
human research and animal ethics
biosafety, biosecurity and radiation safety.
Page custodian: Office of the Vice-Chancellor Last updated: