Director's Welcome
Welcome from the Director, Alfred Deakin Institute for Citizenship and Globalisation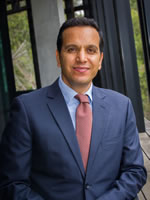 We live in a world that is globally-connected and rapidly changing. Transnational capital flows, technological and communication advances and increased human mobility have blurred boundaries and identities, profoundly changing how we live our lives, creating tensions, conflicts and challenges as well as new connections, encounters and opportunities.
How we understand and engage with these changes is rarely a straightforward process. The consequences and impacts of globalising processes on the lived human experience are complex and complicated. Our communities are becoming increasingly diverse and many long-standing concepts, such as identity and belonging, are being contested, challenged and redefined. Such developments underpin the multi-faceted research activities of the Alfred Deakin Institute for Citizenship and Globalisation. The Institute seeks to lead international scholarship and actively share cutting-edge knowledge to shape agendas and inform debates.
By impacting on how emerging social and cultural problems are understood and addressed by leaders, policy-makers, key opinion makers and practitioners, the Institute meaningfully effects lived human experiences.
By the very nature of the phenomenon we study, the Institute is problem-oriented and outward-focused. It endeavours to be genuinely global in its orientation, both in its research focus and operations. We seek to create partnerships (local, national and international) with outstanding researchers and committed organisations in order to better understand and address the challenges and opportunities of globalising processes and the consequent contestation of citizenship, identity and belonging.
This Strategic Research Plan 2015-2020 outlines what the Institute will achieve in its first five years as a major research initiative of Deakin University. It communicates how the Institute will generate knowledge that is conceptually and methodologically innovative whilst also contributing to solving tangible world problems through an intellectually-ambitious and stimulating research agenda.
We hope you will join with us and engage with our various research projects and dissemination activities.
Alfred Deakin Professor Fethi Mansouri
Director, ADI
Page custodian: Deakin Research Last updated: