Empower Yourself to Achieve - Seminar and Networking Event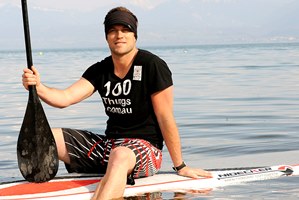 Presented by renowned 100 Things author and international presenter Sebastian Terry. Come along to this seminar and networking event and be inspired by the truly remarkable story of this extraordinary Australian adventurer, charity fundraiser and motivator.

The seminar will be followed by drinks and canapés, so you can meet Seb and network with other ACT Deakinites. You are welcome to bring along one guest.
RSVPs are essential by 1 September 2014, unless booked out earlier.

About Sebastian Terry
Sebastian Terry is an international keynote speaker, top-selling author, motivator and adventurer.

Everyone has at least one thing they have to do before they die, some even have a list, but how many goals and dreams on this list are actually achieved?
Affected by the death of a close friend in 2004, Sydney-born Seb experienced a moment in his life where he asked himself a simple question; 'Am I happy?' The answer was NO and so he decided to pen down a list of 100 Things that he'd always wanted to achieve. He then decided to prioritise this list in his life and now some five years on, his life has changed. Over sixty five items down, and tens of thousands of dollars raised for Camp Quality, the pursuing journey has not only fulfilled himself, but the lives of people all over the world - the journey he calls '100 Things'.
Drawing on stories and reflections from his inspirational book 100 Things, Sebastian discusses the issues on the minds of many people in today's complex world and questions the limits of the notion; "What can but one person do…?" Seb incorporates visual aids into his talks and highlights powerful and profound messages with dynamic, interactive, and humorous delivery.

For more information about Seb and 100 Things visit http://100things.com.au
Event details
Date
Monday 8 September 2014
Time
6.30 pm-8.45 pm
Location
Hyatt Hotel Canberra, 120 Commonwealth Avenue, Yarralumla ACT
Cost
Free of charge
Register now
Page custodian: Digital Presence, eSolutions Last updated: