Tomorrow's Leaders - Sydney Alumni seminar and networking event
Presented by Morris Miselowski, world renowned business futurist, stirrer and thinker.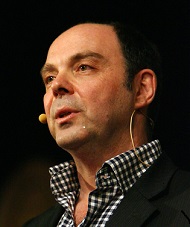 Morris will take us on a journey over the horizon to explore tomorrow's exceptional leaders; how they will unite and inspire a diverse task and project driven global workforce; raise capital and resources through crowdsourcing and crowd funding and find purpose within the game changing evolutions that await us all.

Attend this seminar to see how Morris will help navigate the waters in a world drowning in data, but thirsting for wisdom; where the work of human and machine are melding; where regional, national and international boundaries are disappearing and physical and digital work and life spaces are forever intertwined and tomorrow's great leaders know they can and will do much better than merely survive.

Morris has, consulted to some of the world's top companies and organisations, worked alongside thousands of global CEOs and decision-makers delivering millions of dollars to their bottom lines. Morris has also lectured for a number of leading universities and TAFEs, conducted countless media interviews and presented to sell-out audiences all over the world.

The seminar will be followed by drinks and canapés, so you can network with other Deakin Alumni. You are welcome to bring along a guest - please advise their name at the time of booking. Numbers are strictly limited and RSVPs are essential by 12 August 2014 or until booked out.
Event details
Date
Tuesday 19 August 2014
Time
6.30 pm-8.45 pm
Location
Mercure Sydney, 818-820 George Street Sydney, NSW
Cost
Free of charge
Register now
Page custodian: Digital Presence, eSolutions Last updated: