Hong Kong Alumni Chapter launches
Deakin's new Hong Kong Alumni Chapter has officially commenced with the election of its inaugural committee.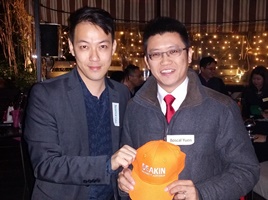 On 25 January 2014 as part of a special AGM meeting, the following alumni accepted positions on the committee:
President: Miranda Ip
Vice-Presidents: Terence Lau, James Kong and Jason Chiu
Secretary: Alan Lee
Treasurer: Yvonne Ip
Deakin Commerce Alumni Chapter co-founder Mark Hui has been appointed by the Central Alumni Office to the position of Chapter Ambassador.
This follows on from a successful cocktail event held in late December, where over 50 alumni and staff from the region gathered to officially launch the chapter and frame its future alumni engagement plans.
With over 900 registered members based in Hong Kong, alumni in the region are being encouraged to be actively involved with the chapter.
For more information about the new Deakin Hong Kong Alumni Chapter or for assistance in establishing a chapter email the Deakin Central Alumni Office at deakinalumni@deakin.edu.au.