Sports Management Alumni Chapter Launch
Deakin's newest Alumni Chapter held its official launch on Wednesday 9 April at the Deakin City Centre. Melbourne's rainy weather did nothing to deter around 90 alumni of Deakin's Sport Management Courses and guests. Attendees were employed with a range of sport organisations including national and state sporting organisations, player associations and professional teams as well as sport and event brands.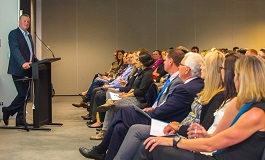 Dr Adam Karg, Course Director and Chair of the Sport Management Alumni Chapter Committee, noted the success of the night, citing a "wonderful showcase the breadth and quality of our alumni, ranging from our newest graduates from recent ceremonies in April, and representing nearly all of the 25 graduating years of the Deakin courses. The enthusiasm and passion for the program and industry was clear and the launch formed the perfect platform for future Alumni events in 2014 and beyond".
The evening's highlight was the keynote speech by Mr Michael Brown, CEO of the Organising Committee of the 2015 Asian Cup, Australia's largest sporting event since the 2000 Olympics. Michael gave insights into the complex challenge of bringing the Asian Cup to Australia in 2015 and the planned outcomes for the upcoming event. One of his key messages was the importance of networking to success in the sports management industry. Dr Karg noted: "Michael's varied experience as a CEO of Hawthorn FC and the Asian Cup and senior leadership role within Cricket Australia provided outstanding insights for the attendees and his passion for the industry and current role was clear in his presentation and time spent with attendees".
The night also saw the program's 2013 undergraduate and postgraduate student awards presented by Associate Professor Pamm Phillips and award sponsors. Recipients of these awards were:
Sally Dwyer - AFL Best Student in Sport Marketing Award
Daniel Gardner - Netball Australia Sport Marketing Plan Award
Sanjay Schuback - MCC Best Student in Sport & the Law Award
Claire Kenna - IMG Best Student in Sport Organisation Theory Award
Melissa Burton - Cricket Australia Sport Marketing Case Study
Dean Pearce - Cricket Victoria Strategic Management Award
The Sport Management Alumni Chapter will be holding more professional development and networking events for their alumni throughout the year. The chapter activities will be guided by a four member advisory committee including Kate Bidwell (Catalyst Consulting), Georgie Herbert (AFL Players Association), Joel Morrison (Cricket Australia) and Tim Murdoch (Netball Victoria). To make sure you are on future invitation list, keep your details up to date with Deakin by emailing deakinalumni@deakin.edu and stay connected to the Sports Management chapter through their LinkedIn page and webpage
Page custodian: Vice-President (Advancement) Last updated: