Aaron Sterns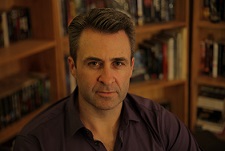 Aaron Sterns
Bachelor of Arts (Honours) 1994
I chose Deakin because...
My high school English teacher suggested Deakin Arts over Melbourne Uni because Deakin was the only university progressive enough at the time to include genre works on their curriculum (others have since followed suit).
After leaving uni...
I stayed on, teaching literary studies for some years, before moving more fully into my own writing. After publishing a number of short stories in anthologies, I started writing novels and screenplays.
At uni I was inspired...
By my first year tutor Hazel Rowley and later by my supervisor Brian Edwards. Hazel taught me critical thinking; Brian gave me the confidence and guidance to apply it.
I am currently...
A full-time novelist and screenwriter (when not looking after my baby daughter), and have just co-written the film Wolf Creek 2 (to be released Feb 2014) and authored the prequel novel Wolf Creek: Origin.
Today, I am motivated by...
I have always been self-motivated, something helped I feel by my high school experience and by the freedom offered at university.
In my profession it is important...
To persevere, despite everything that might discourage you. An unwavering self-belief (though desire to improve) and a bullheaded-tenacity help.
Professionally, my proudest achievement is...
Not only am I the co-writer of Wolf Creek 2 -- sequel to the iconic Australian horror movie and most successful R-rated movie ever in this country – but I am also the author of an original novel detailing Mick Taylor's genesis, Wolf Creek: Origin, which has just published by Penguin. To be able to straddle both fields of screenwriting and fiction is quite a rare achievement particularly in Australia (the skills for each are almost diametrically-opposed), but it's something I've worked towards for many years.
I feel a strong connection with...
My family.
Success to me is...
Having the freedom to pursue what interests you, and not what society dictates you should do to the pay the bills.
In the future I would like to...
I have more projects in the works, both fiction and film. Ultimately, I'd like to move to New York, the city that's obsessed me my whole life.
The single-most important issue in the world is...
That we die.
The best thing I would recommend about Deakin is…
I still consider it to be the progressive institution that attracted me in the first place.
My course helped my career…
While Arts isn't a vocational course as such, my grounding in literary theory and the research and disciplinary skills I learned at Deakin have certainly helped me as a writer.
During my time at Deakin...
I received the outstanding achievement award for 1st Year Arts students (1990), and second 2nd Year Arts students (1991). I was the student representative on Faculty Board.

For more information about Aaron and his work, visit www.aaronsterns.com

Back to Alumni in profile
Page custodian: Vice-President (Advancement) Last updated: