Dr Adam Tomison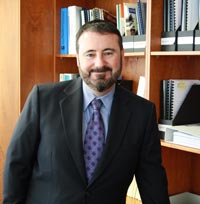 Bachelor of Science (Hons) 1988
Deakin Alumni of the Year Award 2011
Appointed as Director of the Australian Institute of Criminology (AIC) in Canberra in 2009, Deakin graduate Dr Adam Tomison says he is enjoying his 'challenging yet exciting' leadership role.
"The AIC plays a major role in promoting justice and reducing crime by undertaking and communicating evidence-based research to inform policy and practice in Australia and therefore leading the Institute is a significant responsibility," says Dr Tomison.
"It is my role to ensure the Institute continues to position itself to provide quality research to governments and other stakeholders. The AIC has a significant impact on crime analysis, criminal justice policy and crime prevention strategies in Australia and overseas. Ensuring the organisation continues to put out quality research and effectively disseminates its findings is an exciting challenge."
"The position allows me to continue to take a lead role in my specialist area of child abuse and other violence prevention, while enabling me to learn a range of new criminal justice research areas. It also requires me to 'step up' and demonstrate a range of executive leadership, management, research and stakeholder relationship skills - it hasn't been dull! Ultimately I enjoy any role that is both challenging and offers new learning experiences."
Dr Tomison graduated with a Bachelor of Science (Hons) in 1988 and credits his Deakin experience with helping to kick-start his career in crime prevention and research.
"My Deakin degree gave me a good quality degree and a professional qualification that has underpinned my subsequent doctoral studies. I've always found Deakin degrees are well-respected by other academic institutions. The analytical skills I developed and the research methods and statistical training I completed there have provided an excellent base for the range of social sciences research I have undertaken since leaving university," he says.
"It's been a long time since I studied at Deakin, however some of the selling points for me in the 1980s are still evident today, including a diversity of modern courses that have maintained Deakin's original flexible and adaptable course structures, good facilities, and a focus on student welfare."
For Dr Tomison, being appointed Director of the AIC is just one of a number of career highlights that have included; developing and running the National Child Protection Clearinghouse and developing the Australian Centre for the Study of Sexual Assault (both initiatives of the Australian Institute of Family Studies), running and reforming the Northern Territory Child Protection Service and writing much of the well-known, Little Children are Sacred Inquiry report for the Northern Territory Government in 2007.
As for the future, Dr Tomison says he plans to lead the AIC for some years to come and maintain his career-long interest in his core field of expertise of child abuse and other violence prevention.
Dr Tomison won a Deakin Alumni of the Year Award in 2011 for for outstanding service and achievement in his profession and the community.
Page custodian: Vice-President (Advancement) Last updated: