Briony Cole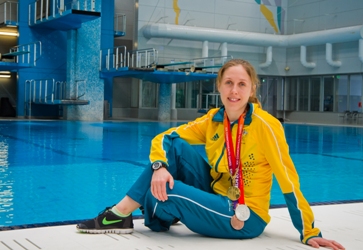 Briony Cole - BTeach(Prim)/ BAppSc(HumanMovement) 2005
Young Alumni of the Year Award for outstanding service and achievement in their profession
In recognition of her exceptional sporting achievements particularly in diving
Named Australian Diver of the Year in 2007, Briony Cole is one of Australia's most successful diving athletes, teaming with Melissa Wu to achieve Australia's best ever result in synchronised diving by taking out a silver medal in the 10 metre synchronised platform at the 2008 Beijing Olympics. She later won silver in the 3m synchronised diving and a bronze medal in the 10m synchronised diving at the 2010 Commonwealth Games held in Delhi.
Ms Cole previously won gold at the 2006 Commonwealth Games in the 3m synchronised event and backed that up winning silver and bronze medals at the 2007 World Championships.
Ms Cole has recently retired from the sport and is currently employed by the Australian Sports Commission as a Regional Coordinator in the Active After-school Communities program.
Page custodian: Vice-President (Advancement) Last updated: