Nazariah M Sahu Palar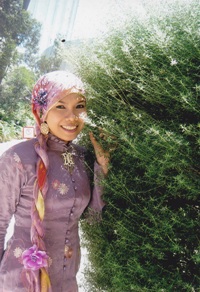 Nazariah M Sahu Palar – MTESOL 2010
Deakin Alumni of the Year Award for outstanding service and achievement in the community, their profession and Deakin University.
In recognition of her distinguished services to education, the humanitarian effort, and the reconstruction of Aceh.
As inspirational leader of the Deakin's Aceh Alumni Chapter, Neza Palar oversees a large team of Deakin MTESOL and Master of Education graduates from Aceh Indonesia, who are working as part of a partnership between Deakin University and the Indonesian Government to help rebuild the tsunami-shattered Aceh Province, by providing community development programs for teachers and students from disadvantaged backgrounds.
Since completing her MTESOL and returning to her homeland, Ms Palar has displayed outstanding leadership and dedication in the rebuilding efforts, particularly in relation to the badly affected educational sector of Aceh, where over 3000 educators lost their lives in the disaster.
Ms Palar also teaches at a junior high school, is a lecturer at two local universities, teaches in various Teacher Training Development Centres and conducts professional development courses for mid-career teachers in the region.
Page custodian: Vice-President (Advancement) Last updated: