Anthony Ellwood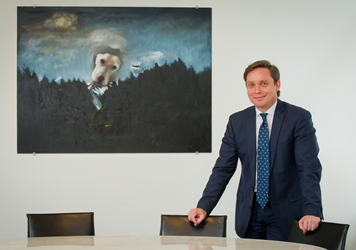 Anthony Ellwood – GDipMuseumStuds 1991 and MMuseumStuds 1994
Deakin Alumni of the Year Award for outstanding service and achievement in his profession
In recognition of his outstanding leadership and contributions to the arts in Australia
Mr Tony Ellwood has forged an outstanding career as a leader in the arts in Australia, culminating in his recent appointment as Director of the National Gallery of Victoria in July 2012.
He was previously Director the Queensland Art Gallery (QAG) from 2007-2012 and under Mr Ellwood's leadership, QAG became the nation's most visited art gallery, eclipsing NGV, which had long held the title by achieving over 1.8 million visitors a year. He was also responsible for initiating and securing nearly $10 million in sponsorship for the organisation.
Prior to his QAG appointment Mr Ellwood has served as; Deputy Director of International Art at NGV, Director of the Bendigo Art Gallery, Curator with NGV and Aboriginal Art Coordinator at the Waringarri Aboriginal Arts in Kununurra.
Mr Ellwood has been a member of many State and Commonwealth committees, including; Visions of Australia Committee, Museums Australia National Board, Victorian College of the Arts (Board and Academic Committee), Art Exhibitions Australia Board, Reserve Bank of Australia - Currency Design Advisory Panel Member 2011– current, Chair of the Council of Australian Art Museum Directors 2011–current, Board member of the Australia Japan Foundation 2010-current and was on the selection committee for the 2003 and 2007 Venice Biennales among many others.
Mr Ellwood was also a previous winner of the prestigious Queen Elizabeth II Silver Jubilee Trust for Young Achievers Award in 1990.
Page custodian: Vice-President (Advancement) Last updated: