George Jose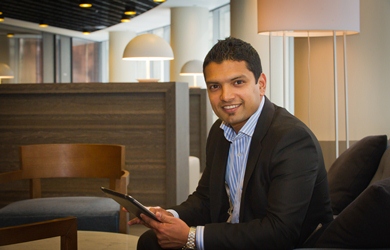 George Jose – MBA 2011 and MIntBus 2011
Deakin Young Alumni of the Year Award for outstanding service to Deakin University
In recognition of his outstanding contribution to the Deakin Graduate School of Business
Over the past 4 years George Jose has been an active and vital contributor to Deakin University. Elected Deakin Graduate School of Business (DGSB) President from 2009-10, he is credited by the School, for helping to reinvigorate staff, student and industry engagement. He has also been a member of the Faculty's postgraduate mentoring program, a Toastmaster, Captain of the Deakin Soccer Team (Division C) and Facilitator of DGSB Industry Student Seminar Series and a guest speaker at numerous Faculty events.
As a student, Mr Jose was a representative on the Deakin University Council, Deakin Student Experience Sub-Committee and on the MBA course review panel. He continues to act as an advisor and key industry connection for the DGSB and is a current member of the Master of International Business course review panel and the MBA Advisory Board.
Mr Jose currently works with Ernst and Young in Melbourne as a Senior Consultant within the Advisory Practice and was previously a Project Manager with Acontec Engineering based in Doha Qatar for 3 years. He also recently won a prestigious Nexus Foundation Medal in recognition of his ongoing contributions to charitable causes. He continues to be involved with the Sacred Heart Mission Dining Hall initiative.
George is also currently a Steering Committee member of the Deakin Commerce Alumni Chapter.
Page custodian: Vice-President (Advancement) Last updated: