Muhammad Aulia Hanan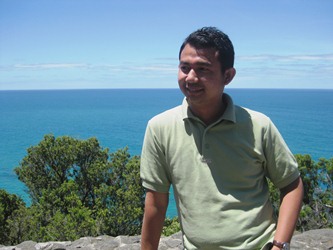 Muhammad Aulia Hanan – MTESOL 2010
Deakin Young Alumni of the Year Award for outstanding service and achievement in the community and his profession
In recognition of his outstanding contributions to education, the humanitarian effort and reconstruction of Aceh
As an inspirational member of Deakin's Aceh Alumni Chapter, Muhammad Aulia Hanan is part of a team of Deakin MTESOL and Master of Education graduates from Aceh Indonesia, who are working as part of a partnership between Deakin University and the Indonesian Government to help rebuild the tsunami-shattered Aceh Province, by providing community development programs for teachers and students from disadvantaged backgrounds. He was also involved actively in the establishment of the Deakin Aceh Alumni Chapter.
Since completing his MTESOL and returning to his homeland, Mr Hanan has displayed outstanding leadership and dedication in the rebuilding efforts (despite losing his own home in the disaster), of the badly affected educational sector of Aceh, where over 3000 educators lost their lives in the disaster.
Mr Hanan has also been called upon in recent years by his local Aceh Government and World Vision International to provide strategic advice, guidance and leadership within the local education system, where as a result he has taken on the management of various strategic planning and financial resource acquisitions and quality control of many capacity building projects in conjunction with key stakeholders. As part of this, he also provides electoral system and voter rights education classes for local community members via the International Foundation for Electoral Systems.
Page custodian: Vice-President (Advancement) Last updated: