Fiona Campbell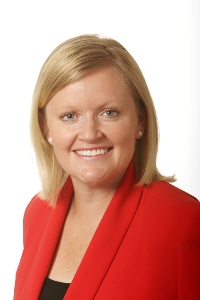 Bachelor of Commerce 1991
I am currently...
A Technical Partner, the Human Resources Partner for Melbourne Assurance and a Client Serving Partner in our Assurance practice at Ernst & Young in Melbourne. Ernst & Young is a global leader in assurance, tax, transaction and advisory services.
I chose Deakin because...
I am originally from the country and Deakin at Waurn Ponds was one of the few universities that had a country-based campus at that time. Back then the Waurn Ponds Campus used to be surrounded by paddocks and farmland, so it was a really comfortable fit for me.
After leaving uni...
I joined Ernst & Young as a graduate and have been with them now for over 21 years.
At uni I was inspired...
To see how many different clubs and associations I could join and how late I could leave it to get out of bed on residence and still make it to my lectures on time!
Today, I am motivated by...
Intellectual stimulation, the people I work with and learning new things - every day should be treated like a 'school day'.
In my profession it is important...
To trust but also verify all information.
Professionally, my proudest achievement is...
Becoming a Chartered Accountant and also co-authoring a textbook that was published in 2011 and entitled,Auditing: a practical approach. This book is aimed at students studying auditing at an undergraduate and postgraduate level.
I feel a strong connection with...
Deakin University – it was three of the most fun years of my life. I matured a lot over the time I was on campus and also learned to be more independent and stand on my own two feet.
Success to me is...
Loving what you do. If I am not passionate about what I am doing, I tend to lose interest very quickly.
The best things I would recommend about Deakin are…
The lifestyle, the education and the flexibility to learn in a way that suits your lifestyle.
My course helped my career…
Because if I hadn't studied Commerce; I would never have heard of the Big 10 Accounting Firms and would never have applied for graduate positions. It also helped me to realise that studying accounting and actually working in the accounting profession are not the same. It also helped me realise that failing things isn't the end of the world - I learned more out of failing the odd subject and assignment than I could have realised at the time.
In the future I plan to...
Keep working with clients to grow their businesses, still have the privilege to work with people who are way smarter than me and always keep learning new things.
I am still involved with Deakin…
As a current member of the School Advisory Board for the School of Accounting, Economics and Finance, with the Faculty of Business and Law. I am also the Campus Coordinating Partner for the various recruiting initiatives Ernst & Young perform out on the Deakin Campuses.
Page custodian: Vice-President (Advancement) Last updated: