Neza Palar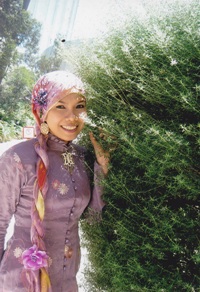 Master of Teaching English to Speakers of Other Languages 2010
Deakin Alumni of the Year Award 2011
I graduated …
In 2010 from the Master of Teaching English to Speakers of Other Languages. I studied at Deakin's Burwood Campus.
I'm currently …
Leading a team of Deakin Alumni who are working as part of a partnership between Deakin University and the Indonesian Government where three cohorts of Acehnese graduates like myself, are helping to rebuild the Tsunami-shattered Aceh Province through a program of community development projects that include proving English language classes for teachers and students from disadvantaged backgrounds in the devastated Langsa region.
The program involves Aceh graduates coming directly to Deakin to study the MTESOL and some the RECSAM Diploma in Malaysia before then proceeding to Deakin. After graduation these Alumni then return to Aceh to take part in the community rebuilding program.
In addition to this I am also teaching at a junior High School in Aceh, I'm also a lecturer at two universities and an instructor for a local education centre.
I chose Deakin because …
I wanted the opportunity to rebuild the Aceh education system after the 2004 Tsunami that saw over 3500 educators perish. My government was working with Deakin on the reconstruction project and I just had to be part of this.
At university I was inspired …
By the great experiences and opportunities presented to me as a result of studying at Deakin - like the chance to provide leadership in the rebuilding of my homeland and to further my skills as an educator in the process. The M TESOL program inspired and motivated me in so many ways and it changed the way that I saw myself, my profession and my environment. There were many times I found my 'ah-ha' moment at Deakin.
Today I'm motivated by …
My students! They motivate me to be a better teacher and person. My life and education background have taught me that I have a personal responsibility to do my best and inspire my students. I want to teach my students, many of whom are from disadvantaged backgrounds, to never give up and to pursue their dreams and that nothing is impossible.
Professionally my proudest achievement has been …
Graduating with my Masters and hopefully being an inspiration to my students.
In my profession it is important …
To be dedicated and to love your work. Teaching in the Aceh Province currently presents many challenges that stem from an environment with complex economic and social-cultural problems. Motivating students to study, poverty, geography and other cultural issues all combine to make my job very challenging at times.
The single-most important issue in the world is …
Insincerity.
In the future I'd like to …
Continue to work as a teacher and pursue further study in a different major area. I would also like the opportunity to undertake a PhD at some stage.
Nazariah won a Deakin Alumni of the Year Award in 2011 for outstanding service and achievement in the community, her profession and Deakin University.
Page custodian: Vice-President (Advancement) Last updated: