School of Architecture and Built Environment Facilities
The School of Architecture and Built Environment is located at Deakin's Geelong Waterfront Campus in the central business district of Geelong.
The Geelong Waterfront Campus has been developed with a great deal of initiative and creativity, in the Dalgety Wool Store on the edge of the city and Corio Bay. The School is situated on the top floor (level 4) under a south-light roof with frontage to Corio Bay. Access to the Geelong Waterfront Campus from Melbourne via public transport is as easy as a 1 hour train ride with the Geelong station just around the corner from the campus.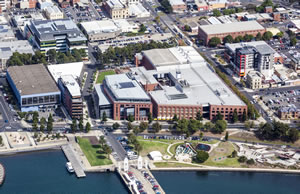 School facilities
Facilities include photographic darkrooms and studio, computing centres and workrooms. Workshop facilities are located at ground level and the library on the floor below. The Gallery Space is also regularly used as a function room. The views from this part of the building are beautiful. A large courtyard has been created in the centre of the building.
Architecture and Built Environment studio
In April 2004, the School took possession of its new a+b studio, located on the Gheringhap/Brougham Street corner of the Waterfront Campus, a continuation of our level four accommodation. It is open 24 hours, 7 days a week. The 1050 square metre space, 12.3 metres high, is not interrupted by posts, partitions or ceiling, leaving the entire space open for maximum flexibility and retaining the industrial character of the building.
Students have found a new collegiality where all year levels work in the same studio, can easily attend each others presentations, and where construction management students take drawing classes and feel free to discuss designs with architecture students. The studio is also being used as a teaching and research laboratory for measuring sustainable use of energy.

Page custodian: Faculty of Science, Engineering & Built Environment Last updated: