Graduate entry courses
Graduate Entry courses are suitable for:
- graduates of other disciplines who want to gain a teaching qualification in early childhood, primary or secondary education and for
-teachers who wish to update a teaching qualification (post-initial)
Master of Teaching
The Master of Teaching provides the flexibility of allowing students to gain a teaching qualification in Early Childhood, Primary or Secondary Teaching.
more about the Master of Teaching
Bachelor of Early Childhood Education (Honours)
Successful applicants will be given Credit for Prior Learning into the course so only one-year full time, or part time equivalent, is needed to complete the ECE Honours.
Course summary - E430

Download:
Deakin's Career booklets provide information on individual areas of study including key features of our courses, career opportunities, student profiles and many other valuable resources.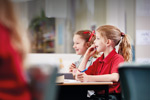 Education career booklet - (1.4 MB)
Deakin's graduate entry courses have been designed to enable you to enhance your qualifications in a short period of time. With different entry points available, you can upgrade your qualifications with one of these courses, to meet the Victorian Institute of Teaching (VIT) requirements.