Study tours
Study tours run for 2-3 weeks and offer students the amazing opportunity of combining study and cultural immersion all whilst gaining credit towards their degree. As the name suggests, on a faculty led study tour students will be guided by academics and provide opportunities otherwise out of reach for an independent traveller.
Please note that study tour units may not run each year. Enrolment is always subject to a selection process and approval by the Unit Chair as places are limited. Therefore students should always identify another unit as an alternative to a study tour unit when planning their course or major.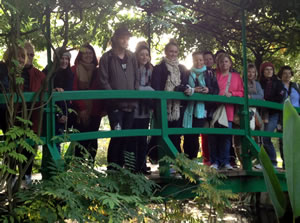 2015 Programs
Below is a list of programs approved for 2015.
Past participants in the programs often claim the experience as the highlight of their course. The personal and professional benefits of engaging in an international experience are demonstrable. It challenges participants to think about, deal with, and appreciate cultural and educational knowledge and perspectives different from their own.
The Student Mobility Office will run a number of information sessions during trimester 1, 2015. Please continue to check this page for information session dates and locations.
Applications for the programs will open mid trimester 1, 2015.
Costs
Each program has additional costs on top of the unit fees.
These costs may include but are not exclusive to:
Flights
Accommodation
Meals
Activities
Transfers
Specific program costs will be included in the programs information which will be advised mid trimester 1, 2015
Please note: All study tour units attract normal tuition fees. For Commonwealth-supported students, this will appear on your HECS statement. International fee-paying students will receive an invoice for payment.
How to Apply
To be eligible for a Faculty of Arts and Education study tour you must meet the following requirements:
completed 8 units of credit, prior to applying
a WAM of 50 or higher
any pre requisite units specified in the programs handbook information (see individual program for link through to handbook information)
Students should attend an information session to be held during trimester 1, 2015.
To apply for a program please click on the link at the bottom of each program which will take you through to the student application portal. These will be available from mid trimester 1, 2015.
AIS202 Study Tour: International and Intercultural Studies
This unit focuses on developing students' understanding of Indonesian culture and society. It also encourages students to explore differences between Indonesia and Australia and to reflect on Indonesian perceptions of Western countries. Students are encouraged to reflect upon their own culturally-embedded understandings and to explore the issues involved in enhancing intercultural communication and competency.
For more information and how to apply please see the International and Intercultural Studies Study Tour (Indonesia) on Studio Abroad.
AIR292 - Study Tour: America and the International System
This unit provides an experiential approach to learning about America's role in the international political system and the role of International Organisations such as the UN, IMF and World Bank. Via their learning about key aspects of American history, politics and culture, students are encouraged to explore and reflect upon how American history, culture and politics informs the study of International Relations as a discipline and their own understanding of contemporary international politics.
AIS203 - Study Tour: Japanese Politics, Society and Culture
This unit focuses of developing students' understanding of Japanese society and politics. Based at Musashi University in Tokyo, via a program of guest lectures, seminars, workshops and field trips students will both gain insights into Japan's distinctive culture and be encouraged to utilise these insights to reflect upon their own culturally-embedded understandings and consider how they can enhance their intercultural communication skills and competencies.
ASP263 - Buddhist Studies in India
An intensive introduction to Buddhist philosophy, Tibetan Buddhist hermeneutics and Tibetan history and culture. Students study at the Central University of Tibetan Studies (CUTS) and are taught by staff of that institute. Lectures on Tibetan politics, art, music and medicine are also given; and students participate in various ancillary activities, including Indian cultural programs, tours of Varanasi and travel to important Buddhist sites in India, including Bodh Gaya, Raj Ghir and the ruins of Nalanda University. Each student is assigned a student colleague drawn from the student body of the CUTS who will help in acculturation and give a 'student's eye view' of Tibetan culture.
ACG308 - Japan Study Tour - Visual Design and Animation Study Tour
Explore Japan's contradictions: from Harajuku pop culture to the temples and old market streets of Kyoto.
The tour highlights how traditional and emerging art practices and technologies converge within contemporary Japanese culture, with a focus on Animation and Visual Communication Design. This unit will engage with Japanese culture in a variety of different ways.
ALR311 - Public Relations Study Tour: Communication Management in Asia
Students will undertake a workshop before departure on how PR is nationally distinct in Malaysia and Singapore - in so doing they will cover an introduction to each nation's history in respect of PR. When in country students will participate in workshops with Public Relations cohorts from host universities; visit and experience Public Relations as practiced in a variety of organisations: government; Not-For-Profit; commercial.
ACC319 - Communication and Creative Field School
The Kelabit Highlands Community Museum Development Project is an ongoing collaboration between the Rurum Kelabit Sarawak (RKS) and Deakin University (DU). In this program, post-graduate Cultural Heritage and Museum Studies students and undergraduate Visual Design and Communications students will work with community representatives to address the need for an interpretive scheme for the community museum that is being developed by the RKS.
Student completing this unit will be required to attend a study tour to a remote region in the Highlands of Borneo, Bario. Students will assist with the design and implementation of displays for the newly developed Kelabit Community Museum. This 2-week intensive experience will involve consultation with the Kelabit community, design of museum displays and information graphics, building and constructing the museum communication strategies.
AIM718 - Cultural Heritage and Museum Studies Field School
This unit allows students to develop knowledge and skills of cultural heritage practice through experiential learning. The learning occurs through a study abroad program that is organised as field school. This field school is being held in Calcutta, India, and will focus on cultural heritage and museum studies issues. The program has been developed in partnership with the Department of Museology, University of Calcutta, and participants from Deakin University will work with local participants to enhance their professional understanding of cross-cultural heritage issues. The program includes seminars, site visits and group exercises organised over approximately 10 working days.
Past Programs
Below is a list of programs that have previously been offered by the Faculty.
ACV300 Creative Arts International Project Or Study Tour
Follow in the footsteps of Monet, Cezanne and Van Gogh through Paris and Provence for a first hand exploration of the artists, and art which revolutionised the art world as we know it. The city of Paris is a key cultural touchstone, the centre of artistic and cultural production in the late 19th and early 20th century.
ALC383 Communicating the City: Understanding Global Media Industry Ecologies
A study tour to the USA which has a focus on the way the specific locations of media production recommend a sense of 'place' in different media forms (film, TV, online media, music) and the way this sense of place encounters other places as these media forms are exported around the globe.
ACD311 - Contemporary Dance in New York Study Tour
This is a study tour unit which will involve traveling to and living in New York City for a 2-week period. Practical, studio-based dance classes and workshops including contemporary dance techniques, choreography and somatic-based learning will be taught by a select group of practitioner/teachers from New York City.
ACM337 - Creative Arts International Project Or Study Tour
The Film and Television Study Tour takes place in China and focuses on the Chinese film and television industries. The tour will cove the themes and subjects of Chinese Film and the relationship between film stories and the people and places those stories come from. The influence of traditional Chinese narrative forms on film and television.
ALJ323 - Crossing Borders: Media in India
Crossing Borders: Media in India is a unit which includes a visit to India, Indian news media industry and academic institutions. The Unit includes opportunities to observe, interact and where possible participate in news production activities in India.
Page custodian: Faculty of Arts & Education Last updated: