News and Events
The latest news and events from the Faculty of Arts and Education at Deakin University.
Follow us on Twitter @DeakinArtsEd
May events (free)
8, 11, 18 May (Afternoons)
Workshop - Film Acting
This workshop series gives you experience of working to camera and with a director.
Register via email to rea.dennis@deakin.edu.au
22 May 11-2pm
'Diving horses'
Free site-specific performance in and around Arts Centre Melbourne and Main Lawns
Discover the hidden world of Wirth's Circus, as 100 student performers bring to life the ghosts of a bygone era through visual installation and performance. Enter backstage and encounter the working life behind the spectacle, witness the untold stories and private moments behind the scenes of 'the greatest show on earth'.
---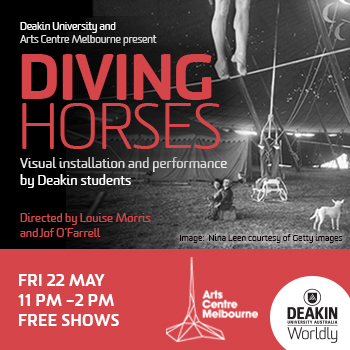 Page custodian: Faculty of Arts & Education Last updated: