HDR Summer School Workshops
9:30 - 11:00
Panel Sessions
Panel 1 - Publish and flourish - D2.193
Professor David Cross
Dr Michelle Smith
Dr James Barry
tba
Panel 2 - Understanding yourself as a researcher / Negotiating the research journey - D2.194
Professor Andrea Witcomb
Professor Trevor Gale
Professor Andrea Nolan
Dr Geoff Boucher
---
WORKSHOPS
---
11:30am - 1:00pm
Archival research and interviews - D2.193
Dr Cassandra Atherton
Interviews and archival research can give your thesis the edge, no matter what your discipline or topic. This is because you are creating your own research opportunities with sources that are less likely to be accessed by others. Interviews can unleash unique and often powerful responses crafted around a thesis topic, while learning which archives are accessible digitally and which are ripe for reading in repositories can result in the unearthing of fascinating sources. This session will provide you with all the information you need to conduct highly successful interviews and archival research. When you only have limited time to research, you need to learn how to ask the best questions in interviews and how to differentiate between crucial documents in archives and unwieldy information. Also, recording and transcribing interviews as well as taking notes and capturing information in archives will be discussed.
or
The sensory, the sensible and making sense: Practice-led research and the exegetical writing for creative practitioners - D2.194
Dr Jondi Keane
This workshop will cover a range of issues that creative practitioners encounter when designing their PhD projects and approaching the writing of an exegesis.
In the workshop we can discuss example of projects and particular project being undertaken by candidates.
how to articulate and approach the relationship of theory and practice;
how to think about methodology, learning by doing, and ethical know-how
ethics approval and emergent research
how the acquisition of knowledge and contribution to knowledge operate in creative practices.
The spectrum of disciplinary, inter-, multi-, trans- and post-disciplinarity.
We will also leave time to have an open discussion of any concerns that students wish to raise.
or
Preliminary coding of qualitative data - D2.211
Associate Professor Andrew Singleton
Doing interviews for your research? When your qualitative interviews are done, it is time to sink your teeth into data analysis. This begins with preliminary coding. Good preliminary coding enables the researcher to readily identify patterns in informants' responses and to begin to formulate grounded theories. This session looks at the nuts and bolts of how to get started with data in a way that makes rich analysis possible.
or
Working with feedback - D2.212
Dr Andrea Gallant and Dr Amanda Mooney
One of the hardest things is to receive critical feedback and not become deflated and have a loss of agency. Negative reactions can be counterproductive causing the writer to have a loss of focus, and spend time away from the actual rewriting process.

The focus of the is on how to engage positively with supervisors and reviewers feedback. SoE HDR Coordinators will discuss three crucial steps: De-personalise (Dp), Gift Recognition (GR)and Active Engagement (AE). You are encouraged to bring feedback to the session so that it can be workshopped on the day. The aim is that you will leave with a sense of agency and a purposeful direction.
4:25pm - 5:30pm (all summer school participants)
---
READING GROUPS
Please check HDR in the Cloud for all readings
---
When registering please select your preferred reading group. Only two selections are available for each attendee. If your first two preferences are not available, you will be allocated to your next preference so it is important to select all groups in order of preference.
The readings for each reading group will be available online prior to summer School. If you would like to access the readings at any time prior, please check the webpage to see if you group's readings are available.
Group 1
TITLE: Narrative and Self-Study: Implications of self in your study
Readings for group 1 are now available
Room/space - D2.193
Facilitator: Dr Bernadette Walker-Gibbs
In qualitative research we are often called upon to make explicit our assumptions and biases. With self-study research this is imperative in fact the 'self' in self-study requires the research to examine the impact of self on all aspects of the research. This reading group will explore the challenges of using self-study and narrative methodologies to engage in teacher education research that is relevant beyond the self and speaks to more data driven research agendas.
Group 2
TITLE: Walking, Imagining, Knowing: Perception and Creativity in Research
Readings for group 2 not yet available
Room/space - D2.194
Facilitator: Dr Rea Dennis
This reading group engages with concepts from cognitive neuroscience, particularly how embodied cognition and imagination support creativity and innovation within research practices. Recent theories of cognition as fundamentally enacted, that is to say, embedded within and inseparable from sensory experience suggest that physical activity is an integral, if not essential, component of creative thinking, or, indeed, of any kind of thinking.
Through walking and talking we will become more familiar with the link between physicality and creativity for research productivity, ways of knowing, and sustainable practice. Notions of distraction, serendipity and off-task activity will be considered in relation to emerging theories of mind that implicate the physical in all forms and levels of cognition.
Group 3
TITLE: Material Ecologies: Post-Digital Design and Aesthetics
Readings for group 3 are now available
Room/space D2.211
Facilitator: Dr Renata Lemos Morais
We will examine the rise of the New Aesthetic, a cultural movement based on digital design, drone technologies and geospatial surveillance. Digital aesthetics and design are permeating material surfaces and structures, reconfiguring media ecologies with the expansion of pervasive computation. We will take a look at a selection of artworks and texts which are representative of the New Aesthetic, and discuss their significance in the context of post-digital media ecologies.
Group 4
TITLE: Agonistic democracy
Readings for group 4 are now available
Room/space - D2.212
Facilitator: Dr Samantha Balaton-Chrimes
We are living in dark times. In the face of (supposed) economic crisis and the (exaggerated) threat of terrorism and difference more generally, governments in liberal democracies across the globe are restricting our liberties, corrupting our freedom, and neutralizing dissent of all kinds. Appeals to be part of 'Team Australia' and other attempts to demonise disagreement over recognition and/or distribution threaten the quality of our democracy in profound ways.
Agonistic politics is based on the assumption that in communities of significant diversity and injustices of material distribution, consensus is neither possible, nor desirable. An agonistic political ethos seeks to avoid the hegemonic and incontestable domination of the will or interests of one group over others by generating and sustaining sufficient space for dissensus, within limits to keep conflict on the side of agonism, rather than antagonism or violence.
This reading group will explore agonistic democratic theory, focussing on the work of Chantal Mouffe, supplemented by other significant agonistic theorists Bonnie Honig and William Connolly. These texts will be of interest to scholars concerned with the democratic (or undemocratic) contexts within which social or economic injustices are generated and sustained.
Group 5
TITLE: Global Power Shift: What Does It Mean (for Us)?
Readings for group 5 are now available
Room/space - D2.106
Facilitator: Dr Chengxin Pan
It has become almost a truism that we are witnessing a global power shift from the West to the East and from the US to China in particular. As international power shifts in the past have often led to hegemonic wars between the dominant power and its challenger, much is at stake in getting the question of power shift right. In this reading group, we would like to explore a series of questions associated with the power shift debate: Is there such a power shift? How do we know it? What is power? And what does power shift mean for the West in general and Australia in particular?
Group 6
TITLE: 'The Liminal Space of Supervision: thinking the private and public aspects of candidature via Richard Sennett'
Readings for group 6 are now available
Room/space - D2.204
Facilitator: Dr Antonia Pont
Sometimes during candidature, one can wonder whether a PhD on the topic of the supervisory relationship itself should be a prerequisite to doing doctoral study at all! Questions about the precise nature of the supervisor-candidate relationship, its etiquettes, codes of behaviour and expectations abound. Sometimes candidates and supervisors can struggle to align their visions of what is going on, and there can be an array of inflections of the relationship mentor, confidante, therapist (!), project manager, distant role model, and so on which may not be reciprocated across the hinge that is the supervisory encounter. Richard Sennett, in his early work The Fall of Public Man or its alternate title 'The Tyranny of Intimacy', presents a possibly counter-intuitive, but refreshing argument. He suggests that whereas in the private sphere behaviours based on ideas of authenticity, transparency and disclosure can enrich relationships, in the public sphere these same behaviours can became stifling and actually work against expression and satisfying encounters with others. Given that the supervisory relationship is actually one that occurs in the very public space of the university and is subject to a number of professional constraints, Sennett's contention is potentially provocative, if not instructive and cautionary. This reading group will discuss the excerpts provided, and apply Sennett's thinking to unpack and refresh various framings of supervisory styles.
Group 7
TITLE: Global agenda setting activists, issues and strategies of influence
Readings for group 7 are not yet available
Room/space - D2.205
Facilitator: Dr Danielle Chubb
Which issues make it to the global agenda and which don't? Social constructivists argue that there is nothing 'given' about a state's national interest. Central to this argument has been the growing evidence that non-state actors – NGOs, issue groups, transnational advocacy networks, for instance – play an important role in influencing the global normative agenda, and hence the types of norms that become institutionalised within states. Recent research has sought to delve deeper into the norm creation process to examine why some issues 'make it' onto the global agenda and others don't, as well as the types of socialisation mechanisms that best bring about norm compliance and the conditions under which the mechanisms might be effective. This reading group will appeal to scholars who are interested in social constructivist approaches to policy-issues as well as the role that non-state actors play in transnational and international settings.
Group 8
TITLE: Postfeminism, Neoliberalism and Subjectivity
Readings for group 8 are now available
Room/space - D2.105
Facilitators : A/Prof Lyn Harrison & Dr Claire Charles
Rosalind Gill and Christina Scharff published an edited collection in 2011 entitled New Femininities: Postfeminism, neoliberalism and subjectivity. The book consists of twenty original essays situated in a moment of ˜rapid technological change, global interconnectedness and the growing cultural dominance of neoliberalism and postfeminism. The essays attempt to think through the ways in which experiences and representations of femininity are changing in the twenty-first century. In this reading group we well explore some of these concepts and the kinds of analytic tools used by the authors to critically engage with the current moment by reading, discussing and analysing two chapters from this book
Group 9
TITLE: Selecting Social Theorists for your research (tbc)
Readings for group 9 are now available
Room/space - D2.104
Facilitator: Dr Shaun Rawolle
"A contract under duress", chapter 5 from Pierre Bourdieu's Social Structures of the Economy.
The work of Pierre Bourdieu has been profoundly influential to researchers in fields as diverse as education, anthropology, cultural studies and economics. Yet Bourdieu's relationship with some research traditions was tense, to put issues mildly. While Bourdieu is famous for his critique of neo-liberalism and globalisation, his relationship to liberalism is more complex and contradictory. In this reading group the focus is on Bourdieu's direct writing about policy, and in particular policies surrounding the housing market. The chapter for this reading group is selected to engage with Bourdieu's writing on the use of contracts, and the theory of contracts more broadly. Though the example under consideration is related to housing, broader methodological and theoretical issues will feature in the discussion.
9:30am - 10:20am (all summer school participants)
'There and back again': A non-hobbit's PhD tale of survival, reach, and visibility Dr Deb Waterhouse-Watson
10:20am - 10:50am (all summer school participants)
Mental Health and the PhD (tbc) Associate Professor Helen Gardner
---
WORKSHOPS
---
11:10am - 12:40pm
Preparing for colloquium- D2.193 Dr Andrea Gallant and Dr Amanda Mooney
In this workshop session, School HDR Coordinators demystify the colloquium or confirmation process for candidates preparing for this milestone in their candidature. In particular, we consider this process through three distinct phases Consider, Compile and Convince!
The Consider phase orients candidates to the purpose of the colloquium and discusses some of the key aspects of this important event in your HDR candidature. The Compile phase introduces students to the key information that needs to be prepared, including the proposal document and highlights some of the resources available to support students in the development of their proposal. The Convince phase discusses strategies to help you prepare for the presentation of your research proposal at the colloquium.
or
Thesis examination - demystifying the process - D2.194 Professor Jack Reynolds
In this session, HDR students will be talked through key aspects of the examination process, and given some advice regarding 'dos' and 'donts'
or
Developing and writing an exegesis - D2.211 Dr Glen D'Cruz

This workshop will cover the steps involved in producing a strong exegesis for creative arts HDR projects. More specifically, it will cover the following topics
What should the exegesis do?
What should it include?
How do you structure an exegesis?
The workshop will also examine examples of successful exegetical documents, and enumerate tips for keeping your exegesis on track.
or
Being engaging from your bedroom: A practical workshop on communicating research online - D2.212
Dr Adam Brown
A practical, hands-on workshop exploring how you might use various social media outlets to disseminate your research and enhance your reach, reputation, and visibility. The session will involve critically thinking about your online identity, brainstorming what will work for you, and beginning to implement your plan. Having a laptop, tablet, and/or smartphone on the day is crucial! Please watch the following video on 'The Strategic Academic' prior to the workshop: https://www.youtube.com/watch?v=hlz7_UL57Y0
---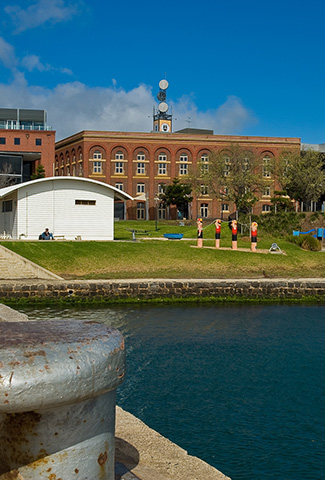 Page custodian: Faculty of Arts & Education Last updated: