UNESCO Chair Delivers Keynote Address at Iftar Dinner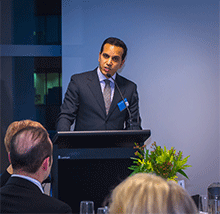 UNESCO Chair, Professor Fethi Mansouri has delivered the keynote paper at the 2014 Deakin University Iftar Dinner.
The dinner, hosted by the Australian Intercultural Society and Deakin Student Islamic Society brought together diverse members of the Deakin community and give many non-Muslims the opportunity to experience the traditions of Islam.
Professor Mansouri addressed guests on pluralism in Islamic sources and history.
"Diversity is an inherent and undeniable part of human nature." he said. "Understanding what we have in common will strengthen our togetherness."
Page custodian: Faculty of Arts & Education Last updated: